Redmond, WA - One of the most acclaimed features of the new Microsoft Windows XP release is its ability to enable users to fly without the aid of any mechanical assistance whatsoever. As the Microsoft commercials vividly display, users of XP can fly simply by spreading their arms. This is made possible by the new flight feature of Windows XP, called MSFlight. "The flight feature is something that we have been working on for some time," said Bill Gates, CEO of Microsoft. "Today's mobile executives need the ability to fly, and we feel that MSFlight's capabilities are far superior to those offered by Linux or Apple."
However, as with many Microsoft releases, there have been some problems with the initial releases. Many users are saying that their flying experiences are very different from what is shown on the television commercials.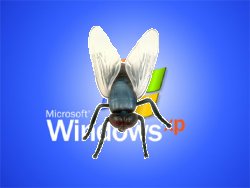 One example is Martin Feinstein, of Syosset, NY After purchasing Windows XP, he activated the flying feature and immediately levitated in his living room. "At first, it was great, just like in the commercials" he said. However, Mr. Feinstein's computer locked up after only a few minutes, sending him crashing to he ground and fracturing his right clavicle. "My computer crashed, and so did I" said Mr. Feinstein, who purchase an Apple computer the next day.
Another problem is XP's susceptibility to viruses. Janice O'Connor, of Anderson, North Carolina was ejected from her 14th floor apartment after opening an e-mail that contained a virus targeted at Windows XP. The virus, which contains a file aptly named "Flyme2th_moon.exe", initiates the MSFlight feature, adjusts the speed setting to maximum, and then shuts down the computer a few seconds later, ending the user's flight capabilities. Witnesses said that Ms. O'Connor was hurdled through her apartment's balcony plate glass window and flew approximately 200 yards at that altitude before plummeting to her death.
"This certainly gives new meaning to the term 'fatal exception'", said her cousin, Rita O'Reardon, who was injured after opening the virus in an e-mail from Ms. O'Connor and being thrown against her bedroom wall. Apparently the virus uses Microsoft Outlook to e-mail copies of itself to everyone in the victim's contacts list. More than 100 people in O'Connor's contacts list were sent the virus, but only 3, who had purchased Windows XP, were injured. Local Police Chief Clem Waters said, "It is fortunate that sales of XP have been so slow, or this event could have been much worse."
Another Windows XP user flew a little too well. Amy Branston of San Francisco was last seen ascending straight up at an amazing speed, and was tracked by NASA radar moving away from the earth at over 28,000 miles per hour. According to her husband, she had just installed Windows XP, and thought that the MSFlight feature was a flight simulator game. "She turned on the MSFlight feature, and shot up like a rocket," he told BB Spot reporters. Apparently, a glitch in the Windows XP software was responsible for propelling her into outer space. Microsoft officials have commented that Windows XP is not capable of accelerating users to orbital velocity unless they have installed an unlicensed copy of the software.
NASA officials are very concerned about the potential for Microsoft to introduce its customers into an already crowded orbital space. Mr. Hal Clarke, Director of Space Junk for NASA says, "There are tens of thousands of objects already floating in earth orbit, and it is difficult enough to track them now" said Mr. Clarke. "If we're going to have hundreds or thousands of Microsoft users floating around up there, it's going to get pretty messy. It's not just the bodies we're worried about. We have calculated that collisions will produce significant fragmentation, with huge numbers of arms, legs, and other parts." NASA is already contemplating fitting its space shuttles with windshield wipers to help clean off blood and other bodily fluids from collisions with orbiting Microsoft XP users.
The FAA is also concerned about the potential for traffic problems in commercial air space. "If there are going to be thousands of Microsoft XP users flying around in the air, we're going to have a traffic control nightmare on our hands," said FAA spokesman Norman Krazowski. "They are all going to have to file flight plans, and carry anti-collision transponders and flight data recorders just like airplanes. Also, randomly-selected XP users will be selected and required to carry an undercover Air Marshall with them." Microsoft has responded to the FAA by saying that any undercover Air Marshals attached to any flying XP users will also have to purchase a licensed copy of Microsoft XP.
Mr. Gates has stressed the safety of Windows XP, noting that it is far more stable than previous versions of Windows. "I can understand why people would have been hesitant to trust their lives to previous versions of Windows, but XP is far more stable, and users can feel completely secure flying at any altitude while using XP." When asked by a reporter why he chose to arrive in a limousine rather than use the flight feature of Windows XP, Mr. Gates declined to comment.