Kabul, Afghanistan - The Recording Industry Association of Afghanistan (RIAA) has begun a major crackdown on pirated music since the Taliban fell from power 2 days ago, and launched their own bid for control in the war torn city. Many cheered the fall of the Taliban, but the RIAA feels that if music can be listened to that copyrights will be violated.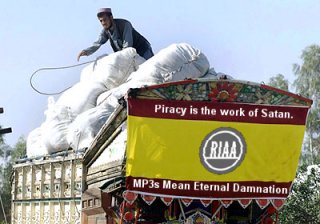 Soon after the Taliban fled Kabul, black market Qamar Gul and Ahmad Zahir CDs were being openly peddled on street corners. Rumors of Abdullah Muqri MP3s circulating on the Kabul computer were widespread.
"It was much easier to control music piracy when the Taliban was in control. Now we fear that with their new found freedom the people of Kabul and in the rest of Afghanistan will turn to copyright violation to satisfy their musical needs," said RIAA President Ghulam Hotak. "An RIAA lead country will be able to enjoy the joys of music, but only if artist are properly compensated."
Opposition groups denounce the RIAA power grab. "We will fight to the last man to keep the RIAA from power in Afghanistan," said General Mahommed Dawood of the Northern Alliance. "We did not unseat the Taliban only to have them replaced by a more oppressive regime."
The Recording Industry Association of America has pledged support to the RIAA by offering troops from its elite piracy fighting Freedom Squad. "We can not sit idly by and watch the people of Afghanistan violate copyrights. Our brothers in the RIAA need our support," said Hilary Rosen.