Austin, TX - Steve, a local boy who used his persuasive talents to get his friends Dell computers, was found badly beaten in an alley outside a Supercuts in Austin. He was taken to the hospital and remains in stable condition.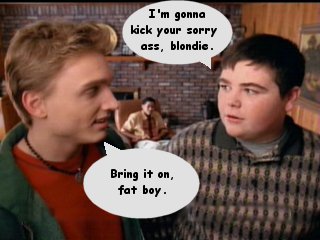 In police reports Steve identified his two assailants as Jeff Fefferbean and his friend Charles. "I don't know why those guys would want to hurt me," said a battered and bruised Steve. "I helped them get their computers. Of course I also convinced Jeff's parents to send him to fat camp, maybe that was it."
"I remember very clearly that Jeff was furious. He kept screaming, 'Here's your free DVD player, here it is.' I really think he needs some help. Maybe somebody in Dell's #1 rated service department can talk to him," continued Steve.
Police did recover pieces of what appeared to be a DVD player and are awaiting a forensic report to see if they match the wounds on Steve's head.
"I don't know who would want to do this to Steve, but I can't believe it was my Jeffy," said Mrs. Feffercorn. "Steve has always been so perky and friendly. We're always telling Jeff he should be more like Steve."
After a 4 hour standoff Jeff Feffercorn surrendered to police. "Sure, Steve helped me to convince my mom to get me a computer, but it turns out it's got this crappy Intel 845 chipset in it. What good is that," said Jeff. "Plus he kept screwing up my name. I think he did it on purpose just to piss me off."
Charles was unavailable for comment. Dell's stock was down on the news.