Akron, OH - Heather Goran spends her evenings on the phone usually with men but sometimes with women. She does it to pay her way through school. Only a couple of her friends know what she does and they are sworn to secrecy. The recent tech downturn has forced even more students into this life of exploitation - the world of tech support.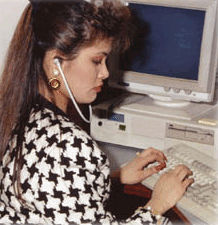 Heather's roommates were oblivious to her double life until they overheard a message on their answering machine. "She was always leaving at night dressed in a tight mini-skirt and a tube top. I always thought she was a hooker," said Carmen Cortez. "Little did I know she had business casual in her bag. I would have never guessed."
The late night tech support world teems with empty bottles of Red Bull and callers who just won't take no for an answer. Sometimes a manager intervenes before Heather gets herself in to deep.
"The tech support line I handle is strictly a for-pay service, no freebies. The clients get charged by the minute so I like to give it to them slow. I feel sleazy, but the more billable time, the bigger my bonus," explained Heather. "Some of the people want me to make at home visits, but Tony my manager said that's strictly forbidden. No fraternizing with the clients outside of the building."
Heather admits she does some "freelancing" outside of work. Furtive visits to customers homes for a quickie driver installation or a register fix then a hasty transfer of cash and both parties are satisfied.
"I told my mom but my dad just wouldn't understand," said Heather. "He raised us to be proud of our intelligence and he'd be disappointed to see it subjected to such abuse."
"I'm very proud of my daughter, at least she's not writing software manuals," said Rebecca Goran, "that's more than I could bear."
The age old maxim that "support sells" still holds true today.