Palmston, MO - A hard drive reported that it was sick of all this crap on it. The Maxtor 40 GB 7200 RPM Diamondmax Plus hard drive decided that it had enough of the fragmentation and unused files and started doing something about it.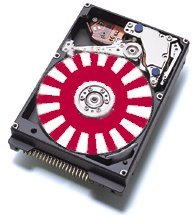 "I started noticing some of my files missing, nothing important. I thought maybe my little brother had messed with it, but he denied it. Probably shouldn't have beaten the little guy," said Cody Shrewsberry, "Anyway, I start getting these text files popping up on my desktop and they say things like 'Defrag me or I'm gonna do it myself' and 'You haven't used Doom in 3 years delete the damn thing already'."
The sad truth is that Max wasn't even supposed to be in the Shrewsberry home. A mix up at the factory put the high performance drive in a position he should never have been in - a casual computer using household.
"When I first got there they ghosted a bunch of crap from their old hard drive. Then I got like 5 different people loading crap on me. I think there's about 4 different installs of AOL floating around in here, as if one isn't bad enough. I know from Cody's last term paper that he can't even spell 'uninstall'," said Max.
After his initial notes didn't prompt any action Max raised the stakes. "I told them to start defragging me in 10 minutes or I start deleting files at random. Eventually I'll get to something that they'd care about and then they'll pay attention."
Cody the only family member capable of opening text files was panicked. "I got that last note. It popped up while I was on the computer. Scared the crap outta me. My photochop folder disappeared and I freaked. There was no way to replace those. I decided if this hard drive wanted to play hardball then two could play that game,"
What Cody did next even experts can't explain?
"The idiot got his mom's credit card and started rubbing it on me and was yelling 'How you like them magnets baby!' Moron," said Max sadly shaking his heads. "I knew right then that there would be no solving this problem."
"All of a sudden I hear this really loud whirring," said Cody, "Faster and faster it spun. Then silence. Must've been some fatal death spin because that biznatch never spun again. No inserting of system disk was gonna solve that problem."
A Maxtor spokesperson confirmed that their Diamondmax Plus line of hard drives is equipped with suicide chips for situations just like this. "No high performance drive should have to endure such torture. We're sorry for the loss of data. We'll gladly replace the Shrewsberry's drive with a lower performance model."