Poway, CA - Computer maker Gateway announced today that it would making job cuts in an effort to boost profitability. Even the talking cow, Tom, featured in their commercials would be a victim of the axe. CEO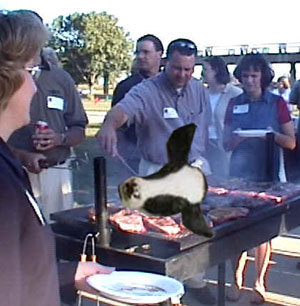 Theodore Waitt also announced a company wide steak dinner to boost employee morale following the cuts.
"The cow has served us well, but now it's time for our company chefs to serve him well or preferably medium rare," said Waitt. "It's probably not the severance package he had in mind, but at least he won't have to look for a job in this bad economy."
People for the Ethical Treatment of Talking Animals (PETTA) issued a statement condemning the move. "We strongly condemn the killing of the talking cow. Talking animals deserve the same protections as people." With the death of Tom the Talking Cow, Carrot Top moved onto PETTA's Most Endangered Animals that Talk list.
"I feel really bad about Tom being let go," said one employee, "He was adored by everyone here. We'll really miss him. Hey, are you gonna finish those short ribs? Yum, yum."
Stock analysts were very positive on the move. "We're very impressed with Gateway's imaginative use of job cuts," said Jim Ritter of Merrill Lynch. "If the bull market doesn't return soon at least I'll be able to enjoy a similar feast."
Gateway's barbecue was the largest meal of a corporate spokesanimal since 9 Lives retired Morris the Cat.