Redmond, WA - Bill Gates announced today that as part of the "Trustworthy Computing Initiative" that Whippy the Giant Invisible Pink Bunny would become the company's security Czar. A move viewed essential if Microsoft expects to build confidence in its .NET strategy.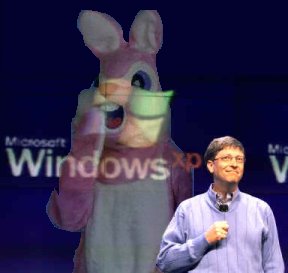 "Only I can see him."
Security experts lauded Microsoft's move. "I'm heartened by Microsoft's new focus on more secure software. And the appointment of an invisible pink bunny, nay, a GIANT invisible pink bunny, as security czar is a great move. It really affirms Microsoft's commitment to security," said Julio Townsel of FRX Security Consultants.
Gates motioned to a large empty space and said, "Whippy is very excited about being Security Czar. It's been his dream since he was just a tiny little giant invisible pink bunny." Gates turned around and requested, "Come over here and say a few words."
Gates beckoned the empty space to come to the podium. "Oh, Whippy, I know you've got lots of work to do, but please stay and answer a few questions. I admire your enthusiasm and your commitment to security."
An uncomfortable press corps questioned the giant invisible pink bunny for several minutes before a smiling Gates returned to the microphone. "Isn't he cute! Thank you all for coming today. Whippy will be available any time you would like to speak with him."
Some Microsoft employees later said they doubted the existence of Whippy, however, just in case they'd be making sure that their code was secure. "I'm not sure what a giant invisible pink bunny could do to me, but I don't think I want to find out," said one programmer.
Gates also announced that Ted the Invisible Transvestite Warthog would be Monopoly Czar, and would make sure Microsoft never abused its monopoly power again.