Do you love your GeForce4?
Is your autographed 8 x 10 of Deanna Troi the closest you've come to losing your virginity?
Now is the time to show a little Geek Love and let everyone else in on your obsession. Take a picture of yourself expressing your amorous intents to your favorite geek possession and you could win one of the fabulous prizes:
1st Place: $25 Thinkgeek gift certificate
2nd Place: BBspot T-shirt
Some Examples
PARENTAL ADVISORY: These images maybe be harmful to children.
Laptop Love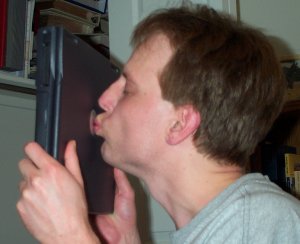 Monitor Lust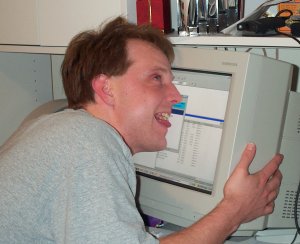 Images will be judged on creativity, geekiness, and since this is a humor site the humorosity of the image. Please read the official rules below for, well, the official rules.
Official rules: Please send your own image (no Google image searches) with your name and the object of your desire clearly noted to briggsb@bbspot.com. The image must be an actual digital photo, no photochops. No nudity, please - I just ate lunch. By sending in your image you give us rights to display the image on BBspot.com, but we won't use your e-mail address or name unless you want us to. The images must be received by February 28th to be eligible to win Winners will be announced in March, duh!