Salt Lake City, UT - Pete, a blind and mulitple amputee ski jumper from New York City, has faced many obstacles in his road to the Salt Lake winter games. Given a special exemption by the US Olympic Committee because of his residency in the desolated center of patriotism, Pete is the first US ski jumper without arms, legs, or the ability to see.
Among the obstacles he's faced none has been more poignant then an inner ear infection which makes ski jumping a horrifically painful experience. "People ask me why I do this since it's so painful. I tell them that I do it for America. I do it for the people that lost their lives at the twin towers. I do it because NBC needed a really touching story."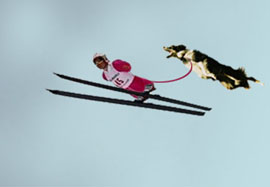 Pete isn't the only one soaring from the ski-jump for the USA; his blind,
three-legged seeing-eye dog Corsair is always by his side. "You may think that a dog would be frightened at the prospects a dizzying descent," said Pete, "but not Corsair who has a heart of gold, nerves of steel, and a lower intestine of PVC pipe."
However, it was that heart of gold that almost kept Pete and Corsair out of these games. In a pre-Olympic screening, Corsair tested positive for blood doping. A furious Pete argued that it must be from the transfusions Corsair has been getting for his blood disorder that caused the positive result. After an intervention by his veterinarian and a large stack of untraceable, small denomination bills from NBC parent GE, Pete and Corsair were finally ready for the slopes.
Pete is not expected to medal, but that doesn't dampen the spirit of this brain-tumored harelip or his fun-loving, epileptic pooch. Pete may not smile much, but that's only due to the nerve damage and the barbiturates. This proud American is flying for us all.