Hollywood, CA - In an attempt to trump the success of Harry Potter and the Sorceror's Stone, director Chris Columbus has decided to replace young actress Emma Watson with pop singer and "actress" Britney Spears in the role of Hermione Granger, one of Harry Potter's best friends. This will be a huge step for Miss Spears, after petitions have been circulating asking for her removal from the third Austin Powers movie cast.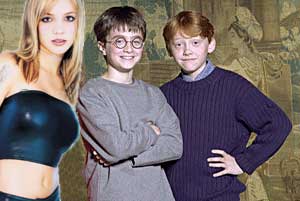 Columbus was impressed with Spears' school girl performance in the video Baby One More Time, and confessed he would love to see her with a broomstick between her legs.
"The apparent change in Hermione will be explained by sudden growth spurt and an Enlargio Globus spell. We will make sure the children understand that," said Chris Columbus. "And all the actors seem pleased with my decision." A drooling Daniel Radcliffe (Harry Potter) and Rupert Grint (Ron Weasley) nodded in agreement.
"I'll be back," said the frustrated Emma Watson. "With the money I made from the first movie, I'll cast my own Enlargio Globus spell, and then we'll see who's cast for the THIRD movie."
Since Harry Potter author J. K. Rowling had asked that all actors be from England, this posed a problem for Mr. Columbus. "We have reached an agreement with Ms. Rowling," he stated. "Britney's voice will be dubbed over with Gwenyth Paltrow's British accent."
Fans of the books had mixed reactions. Some thought that the change would tarnish the integrity of the Harry Potter series, while others were pleased that their thoughts about Hermione would be less socially deviant..
Britney Spears was unavailable for comment, since she was busy speaking with her lawyers about suing young Mr. Radcliffe for grabbing her ass.