Portland, OR - Open source developer Michael Azaki was nearly stoned to death by other developers when he openly praised Microsoft's .NET framework on a project mailing list. It was Azaki's second mailing list violation this year after he was earlier censured for misquoting Yoda.
"This time I said that .NET was a very intriguing platform and that it would be important to take a look at how our project would relate to that framework. I didn't think that was so offensive," said Azaki. "I agree that my Yoda quote last week was a bit garbled, but this was just blown out of proportion."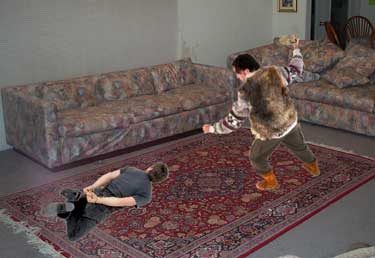 The comment set off a firestorm of protest from other members. "It says right in the FAQ that if you mention .NET in a positive manner you'll be stoned," said mailing list moderator Cody Sulzer. "For an offense so heinous there is no appeal. We gathered up the Life of Brian Posse and jetted over to Michael's home."
"I just skimmed the FAQ," said Azaki from his hospital bed, "I thought it said 'You'd have to be stoned to mention .NET. I'm just really lucky those guys threw like girls otherwise I might be visiting Douglas Adams instead of nursing massive cranial trauma."
Kevin Ford, leader of the Life of Brian Posse, said, "Azaki was a real troublemaker who needed to be made an example for other would-be instigators. Plus, it's always fun to get together for a good stoning. It's about the only exercise we get. Really makes all the drudgery of programming worth it."
Other offenses punishable by stoning include: questioning the GPL, suggesting decaf, and speaking well of RIAA President Hillary Rosen. The FAQ also states the person must be stoned to death, however, in this case a new episode of Futurama started before death could be achieved.