Seattle, WA - The cleanup in chess clubs and computer labs are just beginning after a wave of riots broke out this morning at the University of Washington following the defeat of The Lord of the Rings: The Fellowship of the Ring by A Beautiful Mind in the Academy Awards. The Lord of the Rings won four Oscars mainly for technical achievement while A Beautiful Mind won the "big" awards of Best Director, Picture, Screenplay, and Supporting Actress.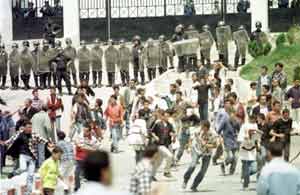 Monitors were smashed and track balls overturned in anger at the decision to deny The Lord of The Rings the honor many fans thought it rightfully deserved. "It's the best movie ever!" exclaimed Henry Colton, 19. "Way better than The Matrix and The Phantom Menace, those movies would have to drop to number 2 and 3 now and maybe even behind The Two Towers because it's gonna be awesome!. How could the Academy be so narrow minded about a fantasy film?"
Fans were also furious that Ian MacKellan was denied an Oscar for Best Supporting Actor. Jim Broadbent walked away with the award for his performance in Iris. "Gandalf should shoot a fireball at that lard ass Broadbent," said Gregory Macy. "I didn't even see Iris but I guarantee you Ian was better. I say lock them both up in Orthanc and let them go at it. "
Angry students spraypinted "Frodo Lives" and "Throw Opie to the Wargs!" on school buildings, and set fire to several schizophrenics. Riot police who broke up the disturbance said many students were armed with blue plastic swords.
"I'd like to see John Nash calculate his way out of the Mines of Moria. He wouldn't even make it to the Bridge at Khazad-Dum, let alone past the Balrog," said Donald Reinhart of the Tri-County Council of Elrond.
One student said he was downloading the entire Alanis Morrisette album from Morpheus to show his disgust for the decision and everything Hollywood.