Reviewinator

Starring
Director
David Fincher
Official Site
Link
Rated
R
Genre
Thriller
Dead Bodies
0
Explosions
2 - sort of
Weapons
Gun, sledge hammer, propane
Voice Over
None
"In a world where..."
No
Spoilage Factor
70%
Geek Factor
15%
See Trailer?
Yes
See Movie?
Definitely
From the director of Se7en and Fight Club comes a brilliant, suspenseful trailer starring Jodie Foster, Forest Whitaker and Jared Leto.
Luckily, for those of us who can't afford 4 story 4,200 square foot townhouses in New York, the first half of the trailer explains what a panic room is and its purpose. What geek wouldn't salivate over a high tech, hide out behind a secret panel. Of course the purpose of the panic room is to be a haven while you watch burglars ransack your home, and not as a inpenetrable fortress for chatting unbothered on IRC. The panic room is well stocked, but missing one key item that any careful designer would have included.
Jodie Foster is brilliant as the single mom, and when she tells her daughter, "It's disgusting how much I love you." I felt a bit uncomfortable. Her daughter, played by a MacCauley Culkin lookalike, is the stereotypical movie teen who will most likely get to kill one of the villains near the climax.
Of course, some bad guys break-in and our heroines are able to dive into the panic room just out of the reach of the evil Forest Whitaker. Unfortunately the baddies want something in that room and they've come prepared for the siege. Oops, we forgot the GUN. Apparently the firearm budget got nixed in favor of that eighth closed circuit television.
Like the briefcase in Pulp Fiction the trailer doesn't reveal what's in the panic room that the ne'er-do-wells want. My guess, the last tenants forgot a nice bottle of Chateau Petrus in the panic room, and they're pretty serious about their Bordeauxs.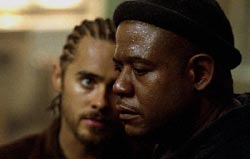 Now comes the quick cut action we've come to expect from trailers. For those who don't want to ruin the trailer go watch it now before reading any further. SPOILER WARNING Two words: propane. Jared Leto has brought a hose which he snakes into the panic room, and Jodie and MacCauley discover that an enclosed fortress isn't the place to be in a fire. Stop, drop and open the thick steel door ladies. The trailer ends with a shocking face to face with Foster and Forest, and the revelation that "They're locking us in."
It's a claustrophobic's nightmare and makes a very suspenseful, action packed 2 minutes of preview. It follows a standard trailer plot, but the technology filled panic room makes a very intriguing setting. Conclusion on trailer: Excellent. Conclusion on movie: With Jodie Foster, Forest Whitaker and David Fincher involved, it's bound to have good acting and more surprises in store. Plus, what else you gonna watch this weekend? Clockstoppers?
Recommend This Story to a Friend