Charlotte, NC - Jason Farrell always told his customers that he could build anything using Flash and to prove his point he built his new home entirely out of Flash. Stepping onto the welcome mat out front sets in motion a colorful display of pictures and music while a soothing voice tells you how happy it is that you are visiting. Five minutes later, you are presented a doorbell in order to actually request entry.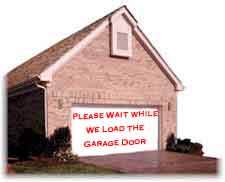 The whole house consists of one room, but with the power of Flash, Farrell never needs to leave that room. "I'm a little uncomfortable taking a leak the same place where I sleep and fry my eggs, but never having to walk more than 5 feet is pretty nice."
There are a few disadvantages says Farrell, "Sometimes it's hard to get from one room to the next, but at least there's always something pretty for me to look at while I try to figure it out."
Farrell foresees that contractors building houses with antiquated wood and drywall are going to be replaced by a new renaissance in Flash home building. "I think people will get over having to wait a few minutes for the toilet materialize once they realize they can make it any color they want with the touch of a button."
Conventional home builders aren't concerned just yet that they will become obsolete. "I see a fundamental usability issue with Flash homes," relates Greg Watson of J & G Builders. "For example, from home to home there will be design differences. In one house if you turn the door knob it'll open the door, but in another the house might start dancing."
Farrell's neighbors have filed several complaints with the neighborhood association stating that the spinning heads of Colin Mochrie are a disconcerting replacement for aluminum siding.
The web designer says he has no plans of stopping with just a house. "There's no limit to what can be done," explains Farrell. "Next I'm building a car, then a wife and finally a missile defense system!"