Sources on Coruscant have reported a growing rift among the Republic's Jedi over saber size. The Jedi, especially Anakin, appear very jealous of Mace Windu's noticeably larger and longer light saber.
"I've had several discussions with Mace about his saber," said Obi-Wan Kenobi, "He likes to pull it out in front of Amidala, just to swing it around and that really upsets Anakin. I'm afraid he may push Anakin to the dark side."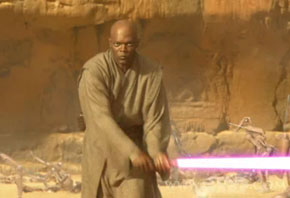 There have been reports that Anakin has experimented, unsuccessfully, with "quantum photon enhancers", which only resulted in his light saber turning a deep purple for about a week. Said young Skywalker, "Master Yoda gives me all this 'Judge me by my size, do you' crap. Damned right, size matters."
Yoda, who has confronted issues of size all his life, said saber size was often a concern of young inexperienced Jedi. Master such as himself knew how to work with a saber of shorter stature. He said of Anakin, "Jealous is he? Much to learn he has. Length, girth - words of the dark side they are."
Senator Padmé Amidala proposed legislation to the Senate which would outlaw light sabers of a certain length. "Sure I get a bit tingly when he unleashes it, but I'm also a bit frightened. I don't think the Republic is ready for something that size. We're still talking about his light saber, right?"
Windu was unbowed by the criticism and concerns, "He can try to make his bigger and better artificially. The Senate can even pass a law. Mine is all natural -- it was like this from day one. That's the only respectable light saber." He continued, "Even if he had one as big as mine, he wouldn't know what to do with it. Probably just stay home playing with training droids. It'd be a damned shame."
Reports of a new film, "Windu Does Cloud City" are only speculative rumors thus far.