Reviewinator

Starring
Geek
Dylan Baker
Official Site
Link
Rated
R
Genre
Thriller
Dead Bodies
0
Car Crashes
2 (accidents really)
Weapons
Computer, Paper Shredder, Samuel L. Jackson's Voice
Voice Over
Yes
"In a world where..."
No
Spoilage Factor
70%
Geek Factor
15%
See Trailer?
Yes
See Movie?
Maybe
Have you ever fantasized about Ben Affleck? No? OK, how about fantasizing about him dying in a bone-ripping car crash? Yeah, me too. Unfortunately like Britney Spears this trailer only teases us with the fantasy and fails to deliver the goods.
Ben Affleck, as the voice over explains, is "an ambitious attorney." Samuel L. Jackson is "a desperate father." Ben has the easy task of delivering some legal briefs to court. Sam has just been approved for a loan on a house which he hopes will win back his wife.
"They have no reason to meet" - except for the plot, apparently. They collide on the freeway and despite Sam's pleadings, weasel-lawyer man Ben leaves bad-ass Mace Windu stranded. Obviously Affleck hasn't seen Pulp Fiction, because Sam is the last guy you want to piss off.
Pretty boy arrives at court, but without the important file which we see Sam picking up off the highway. Sam arrives late to court and is chided by the judge, his dreams of reuniting with his wife seem unlikely. Affleck needs to get the file back. Jackson wants his time back. The revenge starts.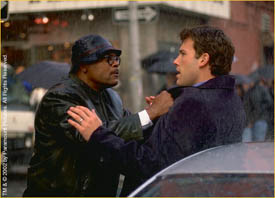 Hit him!
Affleck gets in touch with the Evil Hacker (Dylan Baker) for his part of the revenge. The Credit Bureau must use IIS because it only takes a few keystrokes for the Evil Hacker to make Jackson bankrupt. Wrong move, because Affleck starts getting his important file back in pieces. The battle of revenge spirals out of control, as does Affleck when Sam loosens his lugnuts. Oh, I'm sorry -- did I break your concentration?
Then comes the shocker that makes The Crying Game seem as predictable as Pearl Harbor (the movie that is), the voice over reveals that Ben Affleck is an Academy Award winner while Samuel L. Jackson has only been a nominee. I felt woozy. The earth shifted beneath my feet. Was the world really this apeshit insane? Fortunately for us, it's only the Academy that's bonkers.
Conclusion on trailer: Jackson's performance is excellent, and a surprise cameo by William Hurt makes this a trailer worth the download. I give it 7 spots.
Conclusion on movie: With both characters being very unsympathetic, the only desirable conclusion would be for both of them to drive off the Brooklyn bridge. I can't imagine that would happen in a Hollywood film, so I'm predicting an average thriller saved only by Samuel L. Jackson's performance - 6 spots out of 10.
Recommend This Story to a Friend