Reviewinator

Starring
Director
Sam Raimi
Official Site
Link
Rated
PG-13 (for stylized violence, action and male/female nipples)
Genre
Comic Book
Dead Bodies
0
Explosions
8
Weapons
Flying surfboard with missiles, gun
Voice Over
Yes - Tobey Maguire
"In a world where..."
No
Spoilage Factor
15%
Geek Factor
95%
See Trailer?
Yes
See Movie?
Yes
"Who am I?" the voice asks in the opening moments of this spectacular trailer. That's a damn good question. Where's the deep voiced "In a world where..." guy that always does the voice-overs for trailers? This should be our first clue that this is no ordinary trailer.
A rapid burst of crime fighting spidey action and then a flash back to the time when Peter becomes Spiderman. Maguire was a perfect choice for this character. He can play the dopey, nerdy type convincingly, not quite as well as Dustin Diamond, but I can't picture Screech as Spider-Man.
The next scenes show Peter learning of his super powers and include the first nipple shot, alittle frontal nudity courtesy of the Spider-Man himself. He can shoot webs, scale walls and the super power that all male geeks want - the ability to impress the chicks!
Peter gets to meet Norman Osborn who owns Oscorp one of those humongous megacorps you only find in the movies. He turns himself into some mutated super villain that rides a flying surfboard and shoots missiles at people.
"Whatever it is someone has to stop it," says Peter. Of course most of us would say the same thing and continue to munch on Doritos, but I guess if you're Spider-Man you can get off your ass and actually do something about it.
Most other action/adventure trailers just want to wow you with effects, but this trailer has a conscience which separates it from the rest. "With great power comes great responsibility" and "This is my gift. It is my curse." Spider-Man wasn't born a superhero, and we get the sense that he may not be ready to handle all that comes with it. He's not a Rambo or Arnold that mows 'em down and eats his lunch.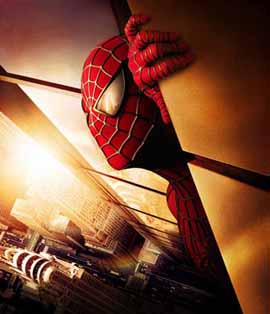 Normally I would deduct some points for using such a trailer cliché as "I'm Spider-Man", but the scene is so effective I got chills. Speaking of chills, I don't have much fashion sense, but I know better than to wear a such a thin dress without a bra in the rain. Thank heavens Kirsten doesn't have as much fashion sense as I do. You can bet that when filming this scene for the trailer I'm sure Tobey told his stunt double to take the day off.
The trailer closes with some comic relief which had me rolling - a great comic book character reference in a trailer based on a comic book. Classic.
Willem Dafoe was effective as the evil villain. The film makers did luck out when he decided to be evil in a city with big buildings. Spider-Man swinging off a TCBY in a strip mall wouldn't have given such dramatic visuals.
Conclusion on trailer: Humor, action, romance, nipples - trailers just don't get much better. I can't rave enough about Maguire's performance. This one will definitely be up for consideration for a Spotty for Best Actor in a Trailer. This one gets the 11 Spot.
Conclusion on movie: With the people involved it would take the act of a vengeful movie god to make this a movie not worth seeing.
Recommend This Story to a Friend