Washington DC - Ralph Hughes of Sony Music testified in the Senate today urging lawmakers to enact legislation which would ban felt tip markers. "These innocuous looking writing instruments are the scourge of our society," he said holding up a Sharpie. "Not only can this black stick of death be used to violate the DMCA, but it could also be used to write the instructions to incubate the anthrax virus."
Hughes did concede that a marker had some legitimate uses, but he cited several examples of dangerous and illegal use of the markers which "clearly overshadow any justifiable purposes."
Man escapes prison with felt-tip marker by drawing a fake mustache on himself and fooling guards.
Snorting felt tip markers leading cause of death among teens who die snorting felt tip markers.

A terrorist could sketch a knife on Post-it note and hijack the plane with the picture.
A baby with a marker once ruined a perfectly good sweater.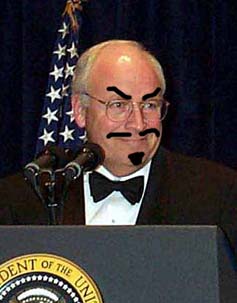 Another Victim of Markers
In response to the news of markers being used as instruments of crime, Senator Fritz Hollings introduced the Hollings' Felt Tip Marker Family Safety Act. "Never have the dangers been so clear and the solution been so evident. This legislation will protect the children of our country in the wake of September 11th and the release of Celine Dion's "A New Day has Come" CD.
"Some citizens may have to switch to pencils or ball point pens," Hollings continued, "but that's a small price to pay for the security of our great nation."
Many pundits were surprised by the Hollings bill. "Normally Senator Hollings only introduces legislation when it's in support of Disney. This support of the Sony Corporation is a welcome change and shows the bi-partisanship of the Senator."
Tom Stephens of the Sanford marker company testified in support of markers, "I spent all last night trying to think of a proposal that was more ridiculous, but I kept drawing a blank."