Reviewinator

Starring
Director
George Lucas
Official Site
Link
Rated
PG (for action/violence, no kissing)
Genre
Cult
Dead Bodies
0
Explosions
12
Weapons
Light sabers, blasters, space ships, chains, Jango Fett, clones of Jango Fett, jedi mind tricks, Samuel L. Jackson, verbs at the end of sentences
Voice Over
No
"In a world where..."
No
Spoilage Factor
10%
Geek Factor
95%
See Trailer?
Yes
See Movie?
Like you haven't already decided?
Disappointed by the last installment, fans of the series had given up hope. They wondered where were the glory days of part two. Not wanting to disappoint the faithful, Lucas has extended the Attack of the Clones trailer trilogy to a quadrology with the release of Clone War.
Unlike the previous trailer, Clone War has absolutely, positively no kissing. The opening music and CGI scenes let everyone know this is not your father's Forbidden Love.
We learn that the Republic is facing a crisis and negotiations are needed to prevent it from splitting in two. Mace Windu tells us that the Jedi are "keepers of the peace, not soldiers." They must be as talented as the Seattle police at keeping the peace because it looks like an all out riot at the end.
The next scene was part Dukes of Hazzard, part The Fifth Element. I was just thankful that Chris Tucker didn't make an appearance. There are enough annoying voices in this trailer.
After hearing the stilted lines delivered by Anakin you begin to realize why they had him doing so much kissing in Forbidden Love. Luckily he does more with the light saber than he does with his lips.
I was very confused when Christopher Lee reprises his role as Saruman the White in a cameo where he pleads with Obi-Wan Kenobi to join him in his tower of Orthanc to destroy the Sith. Lucas is pulling out all the stops to cross-pollinate the cultural references. Next thing you know they'll be throwing Darth Vader in the next one.
The trailer concludes with some excellent battle sequences with space craft and ground transports that rival the AT-ATs in coolness. There's even some dual saber action!
Conclusion on trailer: Great action and special effects overcome the weak acting to tilt this one to the above average side of the Spotmeter - 7 out of 11.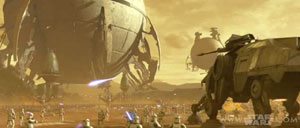 Conclusion on movie: Hopefully, we've seen all the dialog in the trailers and all that's left are more special effect laden action sequences. As Yoda would say, "Worse than Phantom Menace this movie cannot be."
Recommend This Story to a Friend