Reviewinator

Starring
Director
M. Night Shyamalan
Official Site
Link
US Opening
August 2, 2002
Rated
All Audiences
Genre
Sci-Fi / Thriller
Dead Bodies
0
Explosions
0
Weapons
German Shepherd, helicopter, rocket launcher, butcher knife, really loud alien sound
Voice Over
No
"In a world where..."
"What one man believes, could save his family"
Spoilage Factor
10%
Geek Factor
70%
See Trailer?
Yes
See Movie?
Yes
We've all heard how crop circles are just an elaborate hoax, but what if they weren't. What if they really were signs from alien beings? M. Night Shyamalan's latest trailer explores that frightening possibility.
The trailer opens with Mel Gibson strolling through his Pennsylvania farmhouse wearing the expression he does for the entire movie. The only explanation I have for this singular expression is that either Mel is one of the aliens or he's doped up on thorazine.
Giant crop circles appear in Gibson's cornfield and the animals (as always) sense danger that the oblivious humans will ignore. Normally I would be doubled over with laughter seeing two kids wearing tin foil hats so the aliens can't read their minds, but in this trailer the tension is so taut I found myself reaching for my own beanie.
No alien movie would be complete without an appearance by the military. We learn that the aliens are probing - making sure that everything is clear for the rest of them.
Next comes the best piece of acting I've seen this year in a trailer. Mel Gibson's daughter awakens him in the middle of the night and tells him, "There's a monster outside my room. Can I have a glass of water?" Now it must've taken every fiber in his body to not scream, "It's the middle of the fricking night. There is no monster and you didn't say PLEASE! Now get back in bed or there'll be hell to pay."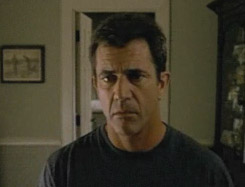 The threat is nearer. The military is scrambling. Mel tells his family, "Don't be afraid," which would probably be more convincing if he wasn't grabbing a butcher knife at the time. Hey kids don't be afraid, poppa is just going to carve up some turkey while we wait for the monsters to invade our home. How comforting.
When the credits rolled I was about to leave my computer when I realized this was an M. Night Shyamalan trailer. I probably should've left because what came next was a Blair Witchian ending that left my heart racing.
Conclusion on Trailer: Great pacing and tension make this an exciting two and a half minutes. I was refreshed that not too much was given away, no revealing shots of aliens, no possible alternative explanations explored. Finally a trailer that doesn't leave me feeling that I've seen the entire movie. (9 out of 11 spots)
Conclusion on Movie: I'm a bit concerned by the single expression from Mel, but I left the trailer wanted to see more. M. Night Shyamalan has a good history with The Sixth Sense and Unbreakable. I'm a bit gun-shy after recommending Reign of Fire two weeks ago, but I think you can take this one to the bank.
Recommend This Story to a Friend