Reviewinator

Starring
Director
Clint Eastwood
Official Site
Link
US Opening
August 9, 2002
Rated
R
Genre
Thriller
See Movie?
No
This past week I had the good fortune to share a theater with a busload of resigned and raspy-breathed septuagenarians fresh from the bingo parlor buffet. Somehow we had each boated across the generation gap and congregated in the same place for the same purpose: to see the new Clint Eastwood thriller, Blood Work.
Eastwood's latest acting/directing outing sees him in a role not even Nostradamus could possibly have predicted, namely as a retired FBI officer who gets pulled back into a case by a killer with a sociopathic obsession and a need for closure. After suffering professional and physical defeat at the hands of a killer, Agent Terry McCaleb (Eastwood) retires to a houseboat with a new lease on life and a new heart thanks to a heart transplant.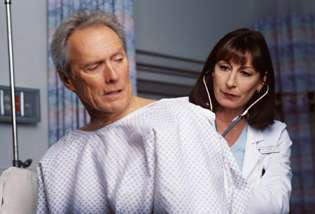 Predictably, this heart has a tragic past, having been taken from a woman murdered in an unsolved armed robbery. McCaleb gets dragged into this past by the woman's sister, Graciella Rivers (Wanda de Jesus). Rivers guilt-trips McCaleb into investigating the case himself, despite the obligatory objections of his physician (Anjelica Huston). Also dragged into the investigation is McCaleb's wharf-rat neighbor, played by the suspiciously cast Jeff Daniels, whose performance seems a hybrid of Jeff Bridges' "Dude" Lebowski and Daniel's own Harry Dunne of Dumb & Dumber fame. McCaleb's foils in his investigation are the two homicide detectives assigned to the case, played by comedian Paul Rodriguez and Congo's Dylan Walsh (yes…THAT Congo). With the primary characters (and primary suspects) on the bus, Blood Work begins its geriatrically-paced guided tour into suspenseless mediocrity.
The greatest surprises involved in Blood Work are not introduced by the plot, but by the concept that this film was brought to life by the same men responsible for such films as Unforgiven and L.A. Confidential. Director Clint Eastwood here forgoes the fascinating nuances of torn characters he demonstrated in Unforgiven, A Perfect World, and Midnight in the Garden of Good and Evil. Instead he delivers oblivious characters, unconvincing stunts, and a love scene between McCaleb and Rivers that surpasses awkward and heads straight for unsettling. In addition, screenwriter Brian Helgeland's script hobbles along its formula, liver-spotted with over expository dialogue and thriller clichés older than the combined age of the cast. The film focuses too sharply on Eastwood and de Jesus, leaving the secondary characters played by Daniels and Rodriguez to literally wander aimlessly through the background.
Many moments in the film fight a lose-lose battle between awkwardness and pointlessness, such as the love scene and a painfully overlong scene of McCaleb and the homicide detectives overaudibly masticating doughnuts. The plot limps forward on a walker, allowing the audience ample time to head to the concessions stand for Jujubes and popcorn and still stay ahead of McCaleb. By the time the climactic moment arrives when McCaleb finally pinpoints the killer, the screen is littered and marred by the Jujubes and spitballs of the audience members who arrived at this same conclusion half-an-hour to an hour before him.
Even though the septuagenarians I shared the theater with appeared to enjoy the film (or just had their oxygen tanks turned up too high) I couldn't help but see it as a tumble down the stairs from Eastwood's other films, such as Unforgiven and the enjoyable and underrated Space Cowboys. Seeing mostly a broken hip in an otherwise exemplary directorial career, I can honestly say I struggled through Blood Work in much the same manner folks of Clint's age struggle through their (remaining) lives: wondering why I bothered and praying to Dear Sweet Jesus for it to end.
Recommend This Story to a Friend