Reviewinator

Starring
Stephen Dorff
Natascha McElhone
Director
William Malone
Official Site
Link
US Opening
August 30, 2002
Rated
All Audiences
Genre
Horror
Dead Bodies
1
Explosions
0
Weapons
Knives, whips, gun, monitor, flying body, "Enter" key
Voice Over
Yes
"In a world where..."
"To catch the killer, he must become the victim."
Spoilage Factor
35%
Geek Factor
10%
See Trailer?
No
See Movie?
No
This trailer is an example of synergies from corporate mergers gone horribly wrong. The first image shows the familiar WB logo with the reminder underneath that it's "an AOL Time Warner Company". Nobody reminded Warner Brother's though, this trailer features people getting killed after they use the Internet. A nice disincentive for all those AOL customers who probably think this is based on a true story. I'd rate that stock a stupid.
This trailer doesn't rate much better. You would think a trailer called feardotcom would be about a site called fear.com right? Wrong. It's about a site called feardotcom.com. Apparently the marketing geniuses didn't check to see if the URL was taken before they named the movie. Heck, even scary.com and reallyscary.com are taken. Reallyreallyscary.com is still available but it's debatable whether that is dumber than what they ended up with.
Back to the trailer. Dead bodies start piling up. We're informed that "the one thing that the victims have in common is the fear site." The logicians among us will also point out that they are all dead and all human and probably all perverts. From the cracked monitors at the crime scenes we can deduce that the victims smashed their skulls against their screens in hopes of ridding their brains of this inane trailer.
Another item these victims have in common is some mad phat bandwidth piped into their homes, because the feardotcom.com site pumps high resolution, full screen, full motion video at them without a stutter. I know showing a real computer and a real Internet connection might not make for a good movie, but could we at least get a bit closer to reality?
Another flaw in logic occurs when a character exclaims, "Things on that site no one has ever seen before." Well, except for the people that created the site, the people that died after watching them, and all the people that just watched this trailer on the Internet. In addition, I've surfed long enough to know that there is nothing that is not on the Internet.
How can we catch this diabolical killer? Our heroine begs our hero to not visit fear.co..er..feardot.co...er...fearcomdot.com er... the site. Will he? Won't he? Does anyone care at this point? Fortunately, the trailer answers this question for us so we don't have to actually go to the theater to find out.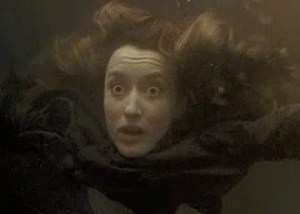 The trailer ends with the predictable quick-cut action sequence which climaxes with a young girl dressed all in white bouncing a white ball. ALERT: Young girls dressed in white bouncing white balls are now scary! Just in case you missed the announcement like I obviously did.
Conclusion on Trailer: Predictable and boring, not worth the bandwidth.
Conclusion on Movie: Only one other movie opens the same week as this stinker, so go see XXX again at the Dollar Theater.
Recommend This Story to a Friend