Berlin, MO - Webspionage Corporation, maker of employee monitoring software and Brainco, manufacturer of EEG machines, have partnered to create the ultimate employee monitoring tool.
"Employees can normally bypass web monitoring software and it can only tell what they are doing on the computer," said Webspionage CEO Max Hertzloeb. "Webbrainer Pro can monitor all aspects of a workers day. If they even think about downloading an MP3 you will know."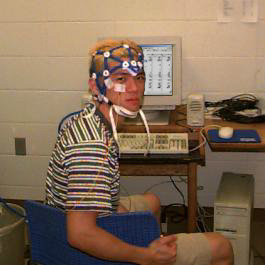 A patented algorithm analyzes brainwave data and determines if employees are thinking of work or about what to eat for lunch. A flexible alarm system can allow for various levels of non-work thinking and alerts. A manager can be notified by e-mail each time an employee has a non-work thought, or an air horn can be wired to alert of pornographic thoughts.
"Companies vary on the amount of non-work related thought and also on the content of those thoughts that they will allow," said Hertzloeb. "If a employer lets workers think of family for five minutes a day our system can handle that. If a more liberal employer allows seven minutes it can handle that too."
Many employers voiced concerns over whether employees would voluntarily submit to such monitoring. "We found in field studies that it was very simple to convince workers to attach the fourteen electrodes to their skulls," said Carol McKim of Brainco. "We just informed them that this was a new biometric security device required to access their computers because of September 11th. The mere mention of the terrorist attacks quieted all protestations."
Several CTOs were very excited by the abilities of new product. "It should be really easy to patch this system into our employee time clock so we only have to pay our employees for time actually worked and not for time they were thinking about little Johnny being sick at daycare," said Graham Finkle of Applied Technistar.
For an additional fee companies can purchase Webbrainer Gold which features The Enforcer. The Enforcer attachment targets problem employees. "Why fire your porn surfing workers? Hiring and training new employees can cost millions. The Enforcer gently reminds them that they should be working by administering a small 465 volt charge on their earlobe," said Hertzloeb. "It doesn't take too many shocks to get them on the straight and narrow!"
Development on a wireless version for employees who must leave their desks during the work day is in progress. Said Hertzloeb, "Like it or not some employees may have to leave their cubicle to retrieve a fax or something. We want employers to be ready for that eventuality as well."
It's estimated that non-work related thoughts cost employers billions of dollars daily in lost productivity.