Washington, DC - President Bush, in a complete policy reversal, has agreed to drop all sanctions against Iraq and has invited Saddam Hussein to Washington for high level meetings and visits to Virginia's fine gas stations and parking lots.
"Hussein could see how valuable oil is to everyday Americans by visiting local gas stations--like the Shell station at 5th & Main on Tuesday at 10:30am...the one across from Grassy Knoll park," offered Bush.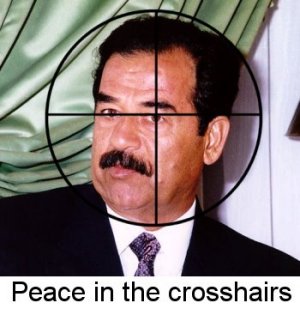 Bush also suggested Hussein and his aides could learn a lot about American capitalism by touring local retailers like "the Big Lots on West Hurley Avenue around 5:15 pm on Wednesday."
Many residents expressed enthusiasm for the proposed visit. "I'd love to see Saddam at my local gas station, but I imagine security would be really tight so getting a chance to see him in person would be a real long shot," said a Fredericksburg resident.
"I applaud the Bush administration for taking a shot at resolving the the Iraqi situation peacefully," said Kofi Annan. "I had my sights set on visiting one of the locations, but unfortunately I cannot be present as I must oversee the installation of new headphone sets in the UN."
Iraqi officials accepted the offer to lift sanctions, but voiced concerns over Saddam Hussein visiting the US.
A State Department spokesperson responded to Iraqi concerns: "Our offer is contingent on Saddam visiting the US but we're not putting a gun to his head."