A recent Zogby poll showed that 74 percent of Americans were surprised that elections were being held this Tuesday.
"I was flabbergasted," said Anthony Smith of Wausau, Wisconsin. "This guy on the phone is asking me who I'll vote for in the governor's race. I told him I thought he was mistaken 'cause I didn't seen nothing about any vote on Jerry Springer."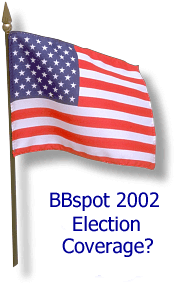 When finally convinced that the election was Tuesday, Smith said he would probably vote for Bush again.
One registered voter in Nebraska said, "I saw a bunch of commercials for politicians but I thought it was strange because we don't vote for a couple more years, right?"
"I thought there were only elections when the National League won the World Series," said one respondent.
Voter surprise often results in low voter turnout which could affect many close races. The Senate race in South Dakota between Tim Johnson and John Thune could end in a tie as only the candidates are expected to vote. Senator Thompson said that he would try to get his wife to vote but that was still "iffy."
Of those familiar with the upcoming election, a large majority were concerned about the lack of choice in the Presidential race. "I know Bush is running but I haven't heard anything about his opponent. I smell a Republican conspiracy," said Clyde Hanover of Miami.
"There have been no debates, no campaigning and no media coverage. How are Americans supposed to make an informed decision about who will be the next President," Hanover added.
Pollsters suggest that voter oblivion in mid-term election is common, but is much more extreme this year than in years past. "We think it has to do with it being the last season of Friends," said Meryl Udjur of Zogby.