Los Angeles, CA - Despite being found guilty of grand theft charges, actress Winona Ryder has vowed to find the real shoplifters.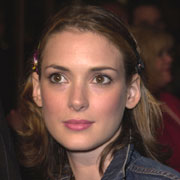 "I cannot and will not rest until the real perpetrators of this crime are found. Despite the potentially damning video tape and the fact that I was arrested with the items on my person, I will find the people who framed me," said Ryder, "especially if asked to do so by my director. Perhaps in a role as a girl who finds the real criminals in a film called... uh... Framers!"
"Even if I have to search from a prison cell, I'll find some of the people who saw Little Women and Girl, Interrupted who believe I'm innocent," continued Ryder. "And since I'm a celebrity, I will spearhead a campaign ensuring that in the future, celebrities will not be held liable for crimes unless they are felonies or federal offenses."
E!, the entertainment network, plans on covering the Winona Ryder Search for Truth tour which kicks off after sentencing next month. Kato Kaelin will host the specials.
Police reported riots erupting in Beverly Hills.