Reviewinator

Starring
Elijah Wood
Ian McKellen
Director
Peter Jackson
Official Site
Link
US Opening
December 18, 2002
Rated
PG-13
Genre
Fantasy/Adventure
Dead Bodies
0
Explosions
4
Weapons
Bow and arrow. spears, swords, battle axe, wizard's staff, torches, Saruman, more swords, flying rocks, wargs, Sting, the one ring, Sauron, and oliphaunts.
Voice Over
No
"In a world where..."
"I come to you now, at the turn of the tide"
Spoilage Factor
75%
Geek Factor
95%
See Trailer?
Yes
See Movie?
Leave work early for this one.
Disclaimer: I love the books, and have read them four times. I loved the first movie. Factor that in when I say that you'd have to be an idiot to not like this trailer.
Few trailers have captured my attention like The Two Towers. I found myself wanting to watch this trailer again and again. It was much better than Cats.
The Two Towers trailer opens with fantastic shots of snow capped mountains. Aragorn, Gimli and Legolas are approached by the Riders of Rohan. "What business does an elf, a man and a dwarf have in the Riddermark?" Sounds like the start of a bad joke, but these riders are all business. Trust and hope are forsaken in these lands. The dark forces are rising. The light of good is growing dim.
Spoiler Alert! If you haven't read the book or seen the trailer then you may want to avert your eyes.
Gandalf who the boys left to fall to his death off the bridge at Khazad Dum makes a phenomenal recovery to reappear in this trailer. Aragorn intones, "It cannot be." I agree Mr. King, how could they reveal the movie's biggest surprise?
Rarely do movies based on such fantastical stories match my imaginings, but the casting and effects are astoundingly precise. Even the scoring for this trailer is a remarkable fit. It is a true marvel of technical prowess and creative energies. We get tantalizing glimpses of the battle at Helm's Deep, Mordor, Gollum and Wargs. Enough to goad our desires to see more of these wonders.
The inspiring return by Gandalf does not mean that good will easily triumph over evil. Saruman's powerful forces are enormous and on the march. The ring grows heavy for Frodo as they approach the gates of Mordor. Elrond warns of the impending doom, but Arwen tells us that there is still hope. The ending scene leads perfectly to the next chapter of this saga, The Return of the King.
Oh, and Legolas still kicks much ass.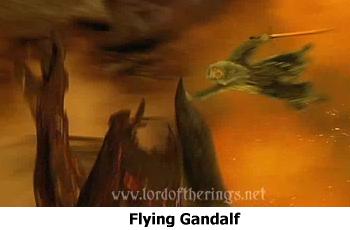 Conclusion on Trailer: I've seen about 20 times and I'm still getting goosebumps every time I watch. It's one of the few that I've wanted to go back and watch after I was done reviewing. A definite contender for Trailer of the Year.
Conclusion on Movie: The Fellowship of the Ring and this trailer have certainly raised the expectations for The Two Towers. If cast and crew can meet just half those expectations then they'll have a damn fine movie on their hands. The expectations for The Return of the King will be more formidable than Aragorn's beard.
Recommend This Story to a Friend