London - Urging his nation to "see the big picture" and not focus on one issue, British Prime Minister Tony Blair today explained that unflinching support for President George W. Bush is particularly necessary now if Great Britain is ever to become the 51st U.S. state.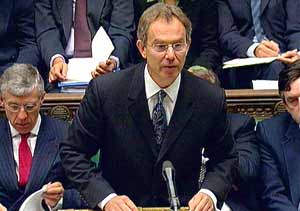 "As America's easternmost state, Britannia would claim 'first baby born in the U.S.' each New Year's," Blair explained to the House of Commons.
Speaking before the House of Commons, Blair conceded British involvement in a Middle East war was unpopular, but insisted "what you must concede is that in order to be granted U.S. statehood, we must be willing to defer our opinions and support our President on issues like this. For the greater good," he went on, "you must all swallow your pride, like I have, and someday, like I have, you too will be able to say, 'I am an American.'"
"But what if we don't want to?" shouted one north London MP.
"Oh, don't be silly," Blair replied.
Blair's emotional speech, the first time his government has officially declared its statehood intentions, came as a surprise to most Americans, who thought the U.K. already was the 51st state. But it caused an uproar in Commons, particularly among liberal members of the Labour Party, who feared that under the American political system, they would have to join the Democratic Party.
Blair, however, insisted the advantages of becoming another star on the U.S. flag are too great to ignore. "As Americans, we will finally be able to lift the yoke of cross-Atlantic condescension," he said. "We will finally be able to say we won the Colonial Rebellion. We will be able to once again look in the mirror and say, 'We are a superpower.' And we will be able to declare that we 'saved our own butts' during World War II."
With 60 million people, Great Britain, which would be renamed Britannia to blend in with other U.S. states that end in "a," would immediately become the most populous state. Eventually, plans call for Scotland and Wales be spun off as the 52nd and 53rd states, but Northern Ireland's status remains uncertain.
"Northern Ireland is a place of deep-seated hatreds and senseless violence, so I don't know if it would qualify as a state," said one source. "It might qualify as an American high school, though."
U.S. diplomatic sources, meanwhile, said inclusion was not a certainty, and explained that the British must make concessions before being granted statehood. Among them:
a) Drop the phony accents.
b) Rename all airports after Ronald Reagan.
c) Disband the Royal Family, "not because America doesn't recognize nobility, but because they're a bunch of nutters."
The future governor of Britannia, however, insisted any cultural compromises would be worth it if the new state gained long-sought representation in Washington, D.C. "For too long we have been governed by America without having a vote in America," said Blair. "As citizens of the United States, we will finally make our voices heard."
"Unless they disagree with the President's voice," he quickly added.