Washington DC - A group of hackers, crackers and malicious code writers filed suit today against several prominent businesses and organizations, insisting that they should receive health care and retirement benefits for their work at the companies' web sites. Amongst the companies and organizations listed in the lawsuit were the Department of Defense (DoD), Amazon, Microsoft, and of course the RIAA.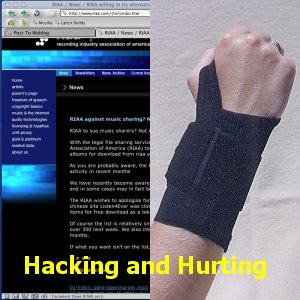 "I read about how eBay is providing health benefits to its sellers, and I thought, if they can get it, why not me?" stated William Kenowitz, aka Phr1d4y. "I mean, damn, I spend as much time on-line as some power seller, and if I come down with the flu, that can take me away from checking out CNN's perimeter defenses for a week, maybe longer."
Fellow claimant Ganesh Rudhi agreed. "I was working some huge hours putting the final touches on my fourth DDOS attack against the RIAA website when, bang, I pulled a back muscle while hunched over my laptop. It cost me a bloody fortune at the emergency room, and by the time I could get back online, they had changed their firewall configuration. Wasted weeks of effort for nothing."
The hacking community is predominately composed of high school and college students due to the availability of health coverage by hackers' parents or schools. Oftentimes as soon as that coverage ends, however, so does a hacker's career in favor of one that will provide needed benefits.
Attorney Sam Tonning made an official statement after filing the lawsuit in court. "These people are hard working Americans, and they deserve the same fundamental protection as the rest of the working community. Their actions force Microsoft into actually fixing their software, and keep thousands of people employed at companies like Symantec, ZoneLabs and SANS. It is simply unethical for society to allow them to fall through the cracks without simple health care or retirement plans."
A self-styled hacker only known as "bUbBlEs" added, "We only want what's fair. That Mitnick guy got free room and board from the government for five years. We're not going that far. Me, I'd be happy with a 401k account matched by the DoD." When notified that the military does not use 401k accounts, bUbBlEs exclaimed, "You gotta be kidding - that's even worse than us. All right, I'll take shares of Microsoft instead." Microsoft stock lost 1.26 on the news.