Washington DC - Americans already upset by rising fuel prices have a new worry at the gas pump, an automobile virus that can take control of their vehicles. The Office of Homeland Security has issued a Fuchsia Alert to all motorists. The virus, Autocae Electrophallus, spreads through infected gas pump nozzles during refueling.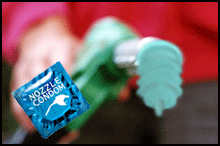 "Americans need to be careful," said Director Tom Ridge. "We think this virus might be part of a terrorist plot. We haven't been able to trace the origins of the crude oil, but we think it may be of Iraqi origin."
Kurt Nipper of the (AVRC) said, "It's a petroleum based, human-engineered virus. It's very ingenious which tells us it's not of domestic origin."
Nipper explained how the virus infiltrates the infected car's control systems, "First, the virus spreads through tainted nozzles at gas stations into the fuel system of the car. Next it goes through the spark plugs into the car's electrical system. After migrating to the electrical system it uses the car's onboard computer to take control of the steering system and accelerator pedal."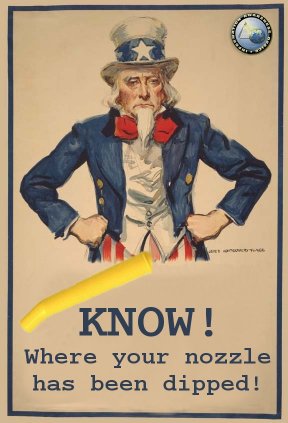 Officials assured concerned citizens that the major automakers are working on an anti-virus patch and will have them available at dealers later this week. Until then they suggest only refueling with virgin nozzles, or in absolute fuel emergencies, using a nozzle condom with auto-viruscide.
The assurances haven't lessened rising levels of fear at gas stations all over the country. "I was pumping away, without a care in the world," said Clayton Morris of Baltimore, "when I realized I forgot my nozzle condom. I panicked and pulled out. I shot gas all over the car and my feet. I think I may have infected my shoes."
Some motorists, who said that putting on a nozzle condom ruins the refueling experience, have tried other methods of avoiding infection. "Well, I hate those rubber things, so I don't insert the nozzle into my car. I just shoot the gas into the hole from a few inches away," said Clyde Traptz.
Simone Washburn offered a different solution, "I move the nozzle in and out really fast so the virus doesn't have a chance to infect my car."
Owners of alternative fuel vehicles were struck with a major case of schadenfreude. Electric car owner Luna Westrop said, "With the lifestyle they have chosen those gas guzzling nozzle pokers shouldn't be surprised they're diseased."
Signs you could be infected include:
The car begins pulling to the right
White steam is escaping from the back of the car
Lights on the back of your car flash whenever you push the brake
If you think you've become infected do not turn on your cars air conditioning or heat. The virus could become airborne and infect your dog, which may cause him to run in circles.