South Bend, IN - Questions regarding possible future plans for recently term-limited President William Jefferson Clinton were answered this week when Notre Dame University announced his appointment to the faculty as tenured Professor of Sophistry.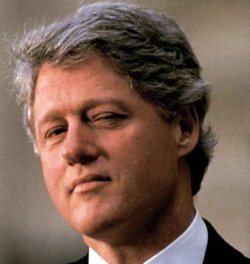 The newly established position, which carries with it a salary described by President Clinton's spokesperson as "a whole bushel of money", addresses a sorely felt shortcoming in the curriculum. The university acknowledges the lack of Classical Sophistry, which a faculty commission labels endemic despite the historic Jesuit-inspired character of the University.
"Despite our historic preeminence in this field," said a University spokesman, who asked to be left unnamed, "the fact is that Notre Dame has fallen behind the pack in this vital area of philosophical debate."
"Notre Dame," continued Dean Avril McClintock, "is now a poor second, or perhaps even third to Harvard University as a whole, and not just its Law School which might be expected."
"It makes little sense for a University that can field a championship football team year after year, to be unable to produce an equivalent number of professional sophists to fill the needs of our government and media."
"When we decided to pursue this initiative it was amazing how many unsolicited endorsements of President Clinton were received by my office."
When queried as to when President Clinton is to begin teaching, neither the University nor the President's spokesman could give a firm date. Both sides, however, were seen to be visibly amused whenever the word "is" was mentioned.