Real interviews with real people. Unlike the rest of BBspot there's nothing made up here. I know it's a difficult transition, but I'm not fooling. We did e-mail these questions and these were the responses.
Long time readers of BBspot might be a bit surprised at our next interviewee. Rob Malda is the creator of the geek havens Slashdot, AnimeFu and other sites. Slashdot is without question the most popular technology discussion site on the planet, so he is an appropriate victim for our 11 Questions.
Enjoy.
BBspot (1): 1. We ask this question of all interviewees. What kind of computer systems do you have? Processor? OS? Browser? Details please.
Malda: I have a dozen or so boxes. A few of the main ones:
P3/600/1Gig RAM/40 GIG HD/Debian (Desktop)
P2/500/256M/120G HD/Debian (File Server)
P2/200/128M/1G HD/Debian (MAME Cabinet)
P3/800/512M/40G HD/Debian (Thinkpad Laptop)
800Mhz Tibook/1G Ram/40G HD/OS X (My Mac Laptop)
2.1Ghz Athlon/1G RAM/120G HD/XP/ Windows Gaming Box

I have many browsers on each box, although I use primarily Konqueror on the Linux boxes, Mozilla on the XP box, and Chimera on the Mac.
BBspot (2): Who would you like to face in a Celebrity Death Match and why?
Malda:I don't think I'm a celebrity. Nor am I good at any game that has a 'Death Match'. I'm more of a SimCity kind of gamer.
BBspot (3): What's the worst thing anyone has ever accused you of doing?
Malda: Well I'm pretty much constantly accused of being sneaky and underhanded and malicious in my running of Slashdot. Picking a 'Worst' is pretty tough since I've been accused of everything from stealing accounts to banning IPs. I also get accused of rejecting stories because I hate the submittor, or because I don't like the company. The old statement 'Never attribute to malice what can be more easily attributed to stupidity' also often applies. We're humans who make mistakes. But our mistakes are seen by a third of a million people. It frustrates me when our mistakes are interpreted as intentional acts of aggression in a "Battle" that we usually don't know is going on!
BBspot (4): How much more useful can the discussion moderation system get? Does there come a point where you have to just say "enough tweaking?"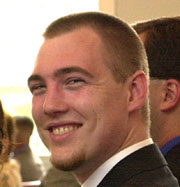 Malda: There will never be 'Enough Tweaking', but I think we need to strip out some fundamental assumptions to make a substantial improvement. I want to revamp the scoring system, and pump more points into the system. That isn't a tweak, that's a gutting ;)
BBspot (5): Do you think Star Wars: Episode III will make us forget about the last three movies in the franchise or will it be Return of the Ewoks?
Malda: Well, Ep II was better than I, so hopefully III will improve. At least it'll have Vader this time around, so from a fan service perspective, yum yum gimme some.
Check out Part II of the interview where Rob tells us who would win in a battle between Gandalf and Superman and whether Slashdot could survive without him.