You only have until Friday to enter!
Do you love your iPod? I mean really love your iPod? Does the phrase "Big Iron" make you hot and bothered? Do you get all tingly at electronics expos?
Now is the time to show a little Geek Love and let everyone else in on your obsession. Take a picture of yourself expressing your amorous intents to your favorite geek possession and you could win one of these fabulous prizes:
1st Place: $25 Thinkgeek gift certificate and a copy of
Tell No Tales by Michael P. Higgins

2nd Place: BBspot T-shirt and a 2003 Despair Wall Calendar
Some Examples
PARENTAL ADVISORY: These images maybe be harmful to children.


Laptop Love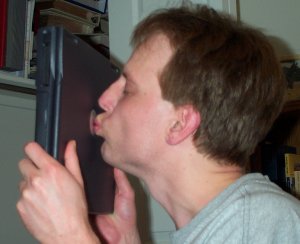 Monitor Lust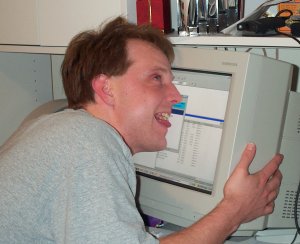 And of course you can always check out last year's winners for some ideas.
Images will be judged on creativity, geekiness, and since this is a humor site the humorosity of the image. Please read the official rules below for, well, the official rules.
Official rules: Please send your own image (no Google image searches) with your name and the object of your desire clearly noted to briggsb@bbspot.com. The image must be an actual digital photo, no photochops. No nudity, please - I just ate lunch. No resubmitting last year's entry either ya freaking cheater. By sending in your image you give us rights to display the image on BBspot.com, but we won't use your e-mail address or name unless you want us to. The images must be received by February 28th to be eligible to win Winners will be announced in March, duh!