Reviewinator

Starring
Director
Antoine Fuqua
Official Site
Link
US Opening
March 7, 2003
Rated
R
Genre
Action/Drama
Dead Bodies
0
Explosions
9
Weapons
Aircraft Carrier, helicopters, fighter jets, various assault rifles, machete, pistol, bazooka, AAA.
Voice-over
Yes
"In a world where..."

"In a country at war with it's own..."

"Everything can change...in a moment"

"He would have to make the ultimate choice"

Trailer Cliché
Slow-motion
hero walk, quick cut ending with title climax
Spoilage Factor
60%
Geek Factor
10% (military action picture with lots of weapons and a guy with a laptop gets it some points, but not many)
See Trailer?
No
See Movie?
No
I'm sure you'll all be relieved that Tears of the Sun doesn't feature Colin Farrell or Ben Affleck. Though, after viewing this trailer you might be wishing that it did.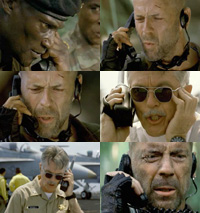 "Get me my agent. I want to fire him for putting me in this piece-of-crap trailer."

Bruce Willis heads an elite team of soldiers who must enter Nigeria and rescue Dr. Monica Bellucci from the advancing rebels. She won't leave without her people, but as Willis woodenly states: "I'm not here for them."

A few moments up in the helicopter with Bellucci and Willis makes an about-face. "It's been strongly suggested that we abandon these refugees out here. I tell you right now I'm not going to do that." Wait a minute. You just left them down there? That's master storyteller Antoine Fuqua at work - confusion in a two minute trailer. We'll later find out that Bruce was really talking about the hostages at the Nakatomi building.

The Comedian trailer did it intentionally for comedic effect, but this preview scores a laughable 11 for voice-over clichés. The last trailer that neared that score was Mariah Carey's Glitter, not a good omen for those keeping score at home.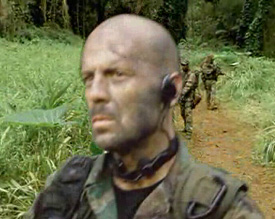 In addition to the voice-over clichés, we also get the slow-motion hero walk and the quick-cut ending with title climax. They spent a lot of time shopping at Cliché Corner for this stinker.
The trailer uses an annoying set of transitions last seen during Bob's PowerPoint presentation during the fiscal third quarter accounting review. I captured one which was so awful that I literally cringed when I saw it.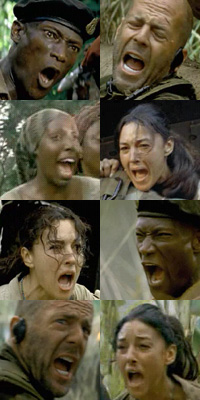 "AAAAAHHHHHHHH!!!!!!!!
What do you mean
there's no escape
clause in my contract?"
As mother says, "Look for the good in everything." There isn't much to like here, but there is one great line in the trailer. I don't think it's there for the comedy effect, but it cracked me up each time I watched it: "Send all our men to Kashanga." Funny.
When the explosions and screams have ended there is only one question left to answer: Will Bruce sacrifice himself to save the rest of the people, or will he find a way to survive? I think I can die happy without knowing.
Conclusion on Trailer: There's nothing in this trailer that makes me want to go see this movie. The annoying transitions and fumbled storytelling make this one something to miss.
Conclusion on Movie: If you can't deduce the remaining 5% of the plot after watching the trailer then you'll probably enjoy this movie. If you can, then take the time that you would've spent watching this movie and pray for Die Hard 4 to be good.
Recommend This Story to a Friend