New York, NY - Verizon announced today that its familiar "Can you hear me now?" Guy has been diagnosed with a fast growing brain tumor. "Hear-Me-Now Guy, as we call him around here, has a benign growth on the right side of his brain near the right ear," said a Verizon Spokesperson.
Officially, Verizon denies any relation between the tumor and Hear-Me-Now Guy's occupation, and claim it's just a "happy coincidence." Anonymous sources told a different story. "Well, what do you expect, he has that phone to his head 24 hours a day, 365 days a year. Something like this was bound to happen. People think the whole ad campaign is some kind of setup, but he really does travel the country testing the connection 24/7."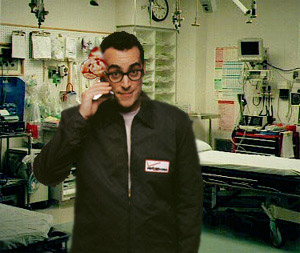 Ironically, the tumor has put pressure on his auditory nerve and he is now unable to hear the reply when he asks "Can you hear me now?" Only a flashing light on the side of the cell phone lets him know a connection has been made and he can move a step to the left.
"The doctor tells me I'll be fine, but the tumor is inoperable," said Hear-Me-Now Guy. "I've started putting the phone to the left side of my head now in hopes that I can get some sort of tumor-symmetry, so I don't look stupid.
"And now that I can't hear I can really get back at the people who walk up to me and say 'Can you hear me now?' snidely. I point to the tumor and say 'I've got an inoperable brain tumor so as a matter of fact I can't!' That really shuts them up quickly."
In a separate announcement Verizon said they have contacted former Dell spokesman, Ben Curtis, for a new "Dude, you're getting a cell!" ad campaign.