New York, NY - Pressure from the international community has forced the United Nations to convene a special committee to review standards for calling organizations "elite." The call for a standard was prompted after the elite Iraqi Republican Guard was seen performing tasks in a not so elite manner.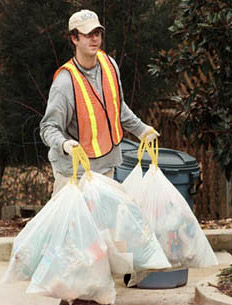 Elite garbageman Kevin Jacobsen takes out the trash.
"Every time any media outlet mentions the Iraqi Republican Guard they always preface it by calling it elite. However, there is no internationally accepted definition for 'elite.' I think we face the real possibility of cheapening the use of the word if standards aren't set," said United States Secretary of State Colin Powell.
Powell continued, "I think it's sad that we've degenerated into some sort of elite relativism where you only have to be better than the next guy to be considered elite even if that next guy sucks. Any person that goes through two weeks of training shouldn't be called elite."
As part of the standard settings procedure the U.N. plans to send in an elite team of inspectors to measure the Iraqi troops' eliteness level.
The American Ambassador to the U.N. John Negroponte doesn't think inspections are the answer. He proposed a televised competition based on the late 1970s program Battle of the Network Stars. He added, "We could pit Green Berets, Navy Seals and Republican Guards against each other in competition to earn the title of elite. Until it is settled, I propose the media should refer to the Republican Guard as 'pretty good' or 'possibly elite.'"
The standard for eliteness set by the U.N. will not only apply to military organizations, but to other groups as well.
Tad Wilkins, part of Safeway's elite Cart Wrangler group, said, "I agree there needs to be standards before a group can be called elite. I have ten years experience toiling in the parking lots at Safeway. I've earned my status."
In related news, Senate Majority Leader Bill Frist asked the U.N. to set a standard for the term 'Republican' as well.