Reviewinator

Starring
Colin Farrell
Kiefer Sutherland
Director
Joel Schumacher
Official Site
Link
US Opening
March 21, 2003
Rated
R
Genre
Thriller/Drama
Trailer Clichés
Quick-cut finish with title splash
Explosions
0
Weapons
Eyebrow of power, assault rifles, handgun
Voiceover
Yes
"In a world where..."
"But today, someone's got his number..."
Spoilage Factor
25%
Geek Factor
5% (Katie Holmes)
See Trailer?
No
See Movie?
No
Finding good, geeky trailers to review at this time of year is near impossible. Hollywood is on hold until Memorial Day before they start releasing anything remotely anticipated. Since Ben Affleck wasn't releasing anything in the next few weeks we had to go with our other Trailer Review favorite - Colin Farrell.
It's hard to believe that this guy has time to get anyone pregnant between films. It seems he's on a Ron Jeremy pace (with the number of ladies or films, you decide).
Farrell plays Stu whose occupation is quite ambiguous. He's either a talent agent or a ticket scalper or a party planner or a combination of all three. It is clear that he's quite a slimeball.
Then he gets a phone call at one of those anachronistic phone booths that only appears in movies, the kind with clean, glass doors.
Thinking it might be an admirer, Stu answers it. Unfortunately for Stu, the disembodied voice of Keifer Sutherland explains that a high-powered rifle is currently being aimed at him..
Stu thinks he's bluffing, so the sniper shoots somebody on the street to disabuse him of that notion. Strangely, people think that weaponless Stu on the phone shot this guy.
A beacon of hope for this awful trailer arrives in the form of Forest Whitaker. Unfortunately, his appearance is too brief to save this dog.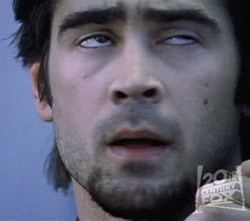 Exactly how I felt
watching this trailer.
On a technical note, the Sutherland voice is awkward. It doesn't sound like it's coming through the phone. It sounds like a voiceover which gives the trailer an odd feeling.
In addition to representing unconvincing white gangsta' rappers, Stu has also been cheating on his wife. He's such a slime that he didn't even tell his mistress (Katie Holmes) that he's married. "Kelly-Pam bam-bam," indeed.
One bright moment of the trailer is in an exchange between Stu and Sutherland: "You're in this position because you're not telling the truth," says the sniper Sutherland. Stu replies with the witticism, "I'm in this place because you've got a gun."
Moral of the story: Never answer a pay phone if it rings -- especially if you've just given somebody four tickets to see Britney Spears.
Conclusion on Trailer: Skip the first 40 seconds. After a slow start the trailer gets interesting, but nothing spectacular. Does a good job of teasing without revealing too much though I think that's because it doesn't have much to reveal. A couple of awkward cuts, and bad acting spots make this one a pass.
Conclusion on Movie: This one has all the traits of a run-of-the-mill concept thriller. I'm usually a sucker for films like this, but this one doesn't have much more to offer than the concept.
Recommend This Story to a Friend