Reviewinator

Starring
Eugene Levy
Catherine O'Hara
Director
Christopher Guest
Official Site
Link
US Opening
April 16, 2003
Rated
PG-13
Genre
Mockumentary
Trailer Clichés
Quick-cut
Explosions
0
Weapons
Giant guitar, fart box, hand
Voiceover
No
"In a world where..."
"What if we see swordfish?"
Spoilage Factor
25%
Geek Factor
15% (Intelligent comedy, stars of Spinal Tap, Powerbook)
See Trailer?
Yes
See Movie?
Yes
Normally, a trailer fails when it is just a mini-version of the movie. The audience has a sense that they've seen it all. There's no reason to see the full-length feature. Where others fail, the trailer for A Mighty Wind succeeds.
The trailer opens with the standard TV news guy announcing that folk music icon, Irving Steinbloom, has died. The three groups Steinbloom managed; The Folksmen, The Main Street Singers and Mitch and Mickey are reuniting to perform a final tribute concert.
After the setting is established we meet the colorful cast of characters: the venue manager, the event financiers, the concert promoter and of course the musicians. There are fifteen speaking parts in a two and a half minute trailer. It could get confusing rather quickly, but this trailer seamlessly fits them all in.
Harry Shearer, Michael McKean and Christopher guest reunite as bandmates but this time instead of heavy metal rockers Spinal Tap they are the quirky band The Folksmen whose records didn't have any holes in the middle.
With a title like A Mighty Wind, there's definitely has to be at least one fart joke and Fred Willard provides us with that. However, I don't get the feeling that bodily functions will be the main focus of funny in this feature. Guest and company are talented enough that they don't have to rely on the gross and disgusting for laughs.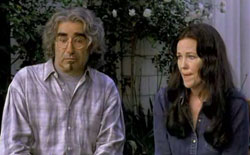 I don't usually find Catherine O'Hara and Eugene Levy all that funny, but they are hilarious in this trailer as the folk duo Mitch and Mickey. Mickey has survived the drug-enhanced 60s and 70s a little better than Mitch.
Conclusion on Trailer: Not very often do comedy trailers make you laugh AND give you the feeling that all the jokes haven't been used up. This trailer is entertaining in it's own right, and that's not accomplished by many trailers.
Conclusion on Movie: If they do half as well on the movie as they do in the trailer it would still be worth seeing.
Recommend This Story to a Friend