Redmond, WA - FBI agents stormed into the suburban Seattle residence of former Microsoft Office mascot 'Clippy' today in an effort to gather evidence against the suspects believed to be responsible for the recent leak of the Windows Server 2003 licensing keys on the Internet. Multiple computers and financial records were seized in the clandestine raid.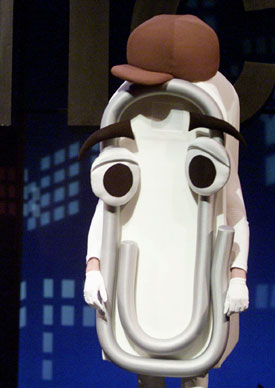 According to the search warrant executed on Thursday, the FBI began its investigation on April 7 when it was learned that key codes for installing Windows Server 2003 were circulating on several popular public websites. "The leak is believed to have originated from an unnamed Microsoft corporate customer that subscribes to one of Microsoft's volume-licensing programs," said Rodney Chesterfield, spokesperson for the FBI's Seattle office. "The FBI believes that it is no small coincidence that Clippy was recently hired into the janitorial staff of that company."
The computers seized are believed to hold several emails and Usenet postings in which Clippy rails against his former employer and vows revenge for his dismissal from the company back in April 2001. One email, dated shortly after the leak was discovered, brazenly boasts that "this time, little Davey finally got a chance to kick Goliath right in the gonads."
Federal agents do not believe that Clippy worked alone, however, and even suspect that the leak may be part of a larger plot to sell Microsoft stock short. Wiretaps and SEC records show that Clippy borrowed and then sold a large quantity of Microsoft stock shortly after receiving a cryptic phone call which stated that "the flightless Penguin soars majestically at midnight." Multiple agencies are cooperating to attempt to identify Clippy's suspected off-shore handler and accomplices, the majority of which are believed to be based in Finland.