Reviewinator

Starring
Ash Ketchum
Pikachu
Director
Jim Malone
Official Site
Link
US Opening
May 16, 2003
Rated
G
Genre
Psychedelic animated infomercial
Trailer Clichés
Quick-cut title-splash, "In a world".
Explosions
1
Weapons
Prized jewel, tidal wave, big monster mouth, water, shock attack.
Voiceover
Yes
"In a world where..."

"In a world they never imagined..."

Spoilage Factor
100% (They show the never before seen Pokémon in the trailer!)
Geek Factor
20% (Imitation anime, toys)
See Trailer?
For a laugh, yes.
See Movie?
Go see The Matrix Reloaded again instead.
From the studio that brought you the Academy Award winning films Life is Beautiful and The Cider House Rules, and from a director who was "chief rigging electrician" on Zoolander, comes the fifth Pokémon movie that's so bad it's guaranteed to drive you insane.
Haven't all the kids moved on to Dragonball Z or Yu-Gi-Oh by now? The only thing I can think of is that these movies already made their money in Japan and they're just looking for gravy over here in the US. Oh sure, some kids are still into Pokémon, but not the cool kids. It's those kids that keep getting beat up.
Now for the "plot." A secret garden, guarded by a prized jewel is under attack. How exactly does a jewel guard a garden? Probably with its name, which is something like Rubiloo or Emeraldi. The evil villain takes control of the world's most powerful carnival ride inside the garden and threatens to destroy the city. Only one thing is powerful enough to stop her of course - Ash and Pikachu. There's a quick cut ending with the title splash, then inexplicably the trailer starts up again. It's very disconcerting. The trailer is over, then whoopsie daisy, no it's not.
Kudos to the voiceover artist. It must've taken him thousands of takes, and a major force of will to get through the dialog without laughing. When he says in complete seriousness, "Never before seen Pokémon, Latios and Latias," I crack up. Every time. And I had to watch this trailer ten times.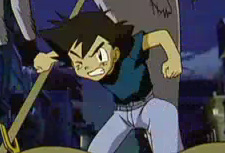 A constipated Ash strains
Speaking of Latios and Latias, does it bother anyone else that the never before seen Pokémon are shown in the trailer? That would be like revealing that Ash Ketchum dies in this one. Whoops! I guess there's really no reason to see the movie now.
Countering the great voiceover work is some terrible lip-synching. I guess it wouldn't be a Japanese import without it. "We have to stop them!" Ash's voice says. His lips say, "OK." If something that bad made it into the trailer, I can only imagine what awaits us in the movie.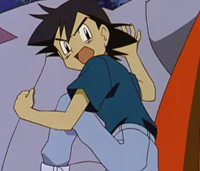 "No wonder I'm grunting. I've got a big red thing up my butt!"
As a another clue to its wretchedness the trailer producers have left another clue. This movie declares that it's only in theaters, because most of us would assume that it was going straight to video.
Conclusion on Trailer: So bad it's funny.
Conclusion on Movie: Avoid at all costs. Go see The Matrix Reloaded again. No matter how bad The Matrix turns out to be it'll be infinitely better than Pokémon Heroes.
Recommend This Story to a Friend