Reviewinator

Starring
Keanu Reeves
Laurence Fishburne
Director
Andy Wachowski
Larry Wachowski
Official Site
Link
US Opening
May 15, 2003
Rated
R
Genre
Sci-Fi, Action
Trailer Clichés
Quick-cut title-splash.
Explosions
6
Weapons
Futuristic guns that shoot fire, the matrix, Neo, nightstick, assault rifle, straight razor, swords, spears, ghostly white guys, some sort of pipe, machine guns, trident, 4-barreled hand gun.
Voiceover
No
"In a world where..."
"I would never let anything happen to you."
Spoilage Factor
30% (showing too many of the cool special effects)
Geek Factor
99% (only a few seconds of romance keeps this one from 100%)
See Trailer?
You've already seen it.
See Movie?
You're kidding, right?
I'm a bit rusty after two weeks off from writing, and a trailer thin on plot and heavy on weapons makes writing a review longer than the "Reviewinator" column a challenge. OK, enough with the filler, let's get it on...
Only blockbuster trailers are offered in "Ultra" (1000 x 540) resolution. According to sources the next installment of The Matrix sequels will be in "Double-Secret-Ultra" resolution. This way only computers that actually generated the graphics will be powerful enough to display the trailer.
If you were expecting a trailer filled mostly with people dressed in black doing choreographed fighting with awesome special effects then you would be absolutely wrong. There are two guys dressed in, get this, ALL WHITE!
About 7% of the trailer is spent on exposition, 1% on kissing and 92% on beating people and blowing stuff up. This works well for a two and a half minute trailer, but might not work so well in a 120 minute movie. Hopefully, a plot can be worked in between the CGI.
It's hard to discuss the plot for this trailer, because if you're familiar with The Matrix then you already know what the plot is going to be, and if you're not familiar then there is no way on earth that you could possible understand from the few clues you're given.
Here's a cheat sheet. Computers control your mind. Keanu Reeves is your only hope.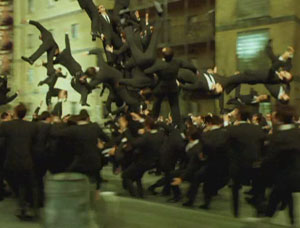 It's raining men, hallelujah!
Gseez, with that synopsis it sounds more like a horror movie.
OK, enough about the "plot." The special effects are great. The fighting sequences are excellent. Keanu isn't on the screen long enough to be annoying. That's all you need to know.
Conclusion on Trailer: Excellent trailer. Worth the download.
Conclusion on Movie: It doesn't matter what I say. You're going to go see it anyway, but I think it'll be worth the price of admission.
Recommend This Story to a Friend