Detroit, MI - Automobile manufacturers are emulating ad blocking software for the Internet by developing billboard blocking technology for cars, trucks and SUVs. Ford and GM have taken different approaches in billboard blocking technology.
Ford combines GPS and guided missile technology to accomplish the task. The roof-mounted guided missiles system gets data from the GPS to sense when the driver is approaching a billboard, and launches a missile, automatically destroying the billboard. Since the system is quite heavy, it is currently only available on trucks, SUVs and larger cars with towing packages installed, and works at distances of up to five miles.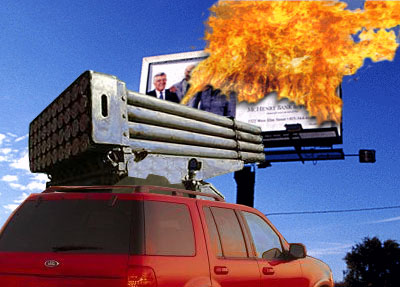 GM also uses GPS data but combines it with advanced electrochromic Smart Glass to darken windows when the driver approaches billboards. GM chief engineer, Red Haroom, explained, "We're really proud of the Blackout Billboard Buster or Triple-B system. Unlike Ford's missile system, our system is completely non-destructive and much more effective. Triple-B can turn a window from transparent to completely opaque in an instant, and then when you've passed the offending advertisement back to transparent."
Haroom continued, "We don't think that destroying the billboards is the answer. New billboards will just pop right up to replace them. What if you run out of missiles? There's really nothing you can do until you reload. Some left wing consumer advocates have complained that blacking out the windows can be dangerous, but our research has shown it's not any more dangerous than watching the dash mounted DVD player while talking on the phone blindfolded."
Haley Kamsten, an engineer who helped develop the Billboard B-Gone system at Ford, countered, "With our system the driver's viewing area is completely unobstructed. Safety is our prime objective unlike GM. Their claim that drivers will run out of missiles is hogwash. The average driver sees about 20 billboards on a normal drive so we've outfitted the new Explorer with 25 missiles, but that really should be plenty for any length journey. Billboard B-Gone is really a community effort. If a car in front of you wipes out a billboard you won't have to, saving your missile. We expect to sell millions of vehicles equipped with these system and working together they could wipe out a large city in a few weeks. All the advertising in a large city that is."
While Ford's missile technology works well on freestanding billboards along the interstate, Kamsten admits that urban advertisements mounted on sides of buildings are more problematic. "It's difficult to bring down a whole building, so we're developing new more powerful explosives or 'brick busters' to deal with them," explained Kamsten.
Display advertising companies are lobbying Congress to make the new blocking technology illegal, but in the interim they are starting to outfit their billboards with anti-missile batteries.
Daimler Chrysler isn't far behind and expects to have their own technology which is said to follow yet another path. "Our system plots a course to avoid known billboard installations. When a new billboard is detected it relays this information via satellite to update the master data base. Sure you might go 50 or 100 miles out of your way, but you won't see any advertising, " said a Chrysler engineer.
Ford and GM should have billboard blocking devices available in the 2004 model year.