Raleigh, NC - Red Hat has teamed up with Fox to to produce a new show based largely around the successful Joe Millionaire program. Twenty programmers will be flown to Raleigh to vie for the heart and root privileges of a Linux OS.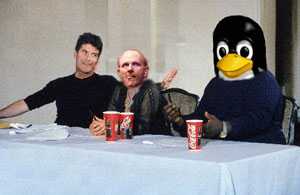 Each programmer will be assigned a piece of unsupported hardware and must create a driver to incorporate into the Red Hat Linux distribution with a chance to win one million dollars. Each week programmers will be eliminated by a panel of judges including American Idol's Simon Cowell.
In some promotional material already released, Cowell displayed his usual acerbity. "Your pointer conversion was just... absolutely atrocious. It's painful to look at," he screeched as he berated contestant Hardy Caster. "It's possibly the worst use of an ADT I've ever seen. I'm dead serious, maybe you should stick to COBOL. I mean, it's like you're not even trying to free memory."
"I'm so glad I was chosen," said Ving Shu, a contestant and programmer from the Los Angeles area. "I never thought I'd get the chance to program an esoteric driver for the one million dollars. It's like a geek fairy tale come true like The Little Engine that Could (Render Polygons Instantaneously)."
Producers have yet to finalize a title for the show, but have considered several ideas including: Joe Programmer, Who Wants to Program a Low-Level Driver?, Geek Idols and We're Running Out of Ideas.
The production team has already begun filming and say the show should be ready to air in 2012. Ideally it will be commercial free. Microsoft is concerned about the publicity this will generate for the competing, no-cost operating system and says they are planning their own reality show "Reboot Island" which will air on another network at the same time.