Reviewinator

Starring
Colin Farrell
Samuel L. Jackson
Director
Clark Johnson
Official Site
Link
US Opening
August 8, 2003
Rated
PG-13
Genre
TV-to-Movie
Trailer Clichés
Quick-cut title-splash, slow-motion hero walk
Explosions
15
Weapons
Assault rifles, Colin Farrell's Eyebrow of Power™, handguns, battering ram, sniper rifle, machine gun, harpoon gun, shotgun, nightstick, Fists of Fury, fireball, semi-truck, rocket launcher, cell phone, flying glass.
Voiceover
No
"In a world where..."

"...put together a young, top-notch..."

Spoilage Factor
85%
Geek Factor
5% (lots of weapons and explosions)
See Trailer?
Yes
See Movie?
No
Everything right is wrong again just like in the long, long trailer. I'm surprised it's taken Hollywood over fifteen years to remake this 70s TV show. S.W.A.T. was always one of my favorites. Of course, I was only six years old. If you have the tastes of a six year old, then I'm sure you will like the trailer for S.W.A.T.
Before I describe the plot, I'd like to take a moment to applaud the producers for not changing the name of the movie to S.W.A.X. or TactiX or something else with an X in it.
This trailer follows the action movie playbook very closely. The initial action sequence that has nothing to do with the rest of the trailer. The bonding sequence between a ragtag bunch of misfits that must pull together to save the day. The evil bureaucratic Captain that's out to get the likable renegade cop that must redeem himself. Then the test of all the training. A criminal pledges $100 million to anyone who breaks him out of prison. Let's pause for a moment to insert some logic.
The criminal is worth billions of dollars and he needs to plead for help on TV? Where are all his minions? Anyone with access to that kind of cash wouldn't need to beg and wouldn't be anywhere near a microphone. Back to the playbook...
The B.A.D. guy escapes with the help of E.V.I.L. S.W.A.T. Only two types of bad guys exist for this type of movie. One is the brother of a bad guy that the cops put away, or it's a cop/soldier/scientist gone bad. It's never some random guy off the streets.
"Eyebrow of Power™, ATTACK!
Four S.W.A.T members do the slow-motion hero walk. BBspot favorite Colin Farrell and his Eyebrow of Power™, Michelle Rodriguez, LL Cool J and some guy who has no lines and barely any face time in the trailer. Pop Quiz: Which one of these is going to die in the arms of Colin Farrell and not make it to the sequel? That's correct. The one whose name isn't mentioned in the trailer. He might as well be wearing a red Star Trek uniform.
The trailer has lots of quick cuts and consists mainly of action scenes with lots of guns, which is what you would expect in a Special Weapons and Tactics trailer. For some reason I can't picture Colin Farrell as a S.W.A.T. guy. He's too squirrelly and no S.W.A.T. guy would ever have his haircut.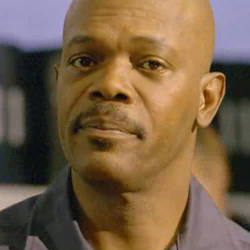 "Yeah, I'm pretty disappointed that I'm in this one too."
I did enjoy the soundtrack for the trailer. I was reminded of the Miami Vice theme with all the drums, and of course the classic S.W.A.T. theme makes an appearance.
Conclusion on Trailer: It's a very nice trailer which follows the plot of a standard Hollywood action movie to a tee. The spoilage factor is pretty high, but that means that you can watch the trailer and skip the movie.
Conclusion on Movie: If you like surprises then you can skip this one. If you like generic Hollywood action pictures then this is the one for you. Or, the simpler one word review. S.H.I.T.
Recommend This Story to a Friend