Reviewinator

Starring
Kate Beckinsale
Scott Speedman
Director
Len Wiseman
Official Site
Link
US Opening
September 19, 2003
Rated
R
Genre
Matrix meets Romeo and Juliet meets Blade meets The Crow
Trailer Clichés
Slow-motion hero walk, bullet time, wire work.
Explosions
1
Weapons
Handguns, razor sharp Frisbees, assault rifles, sniper rifles, teeth, sword, fists of fury, automobile, water traveling at high velocity, whips
Voiceover
Yes
"In a world where..."

"...another driven by revenge..."

Spoilage Factor
99%
Geek Factor
45% (borrows from many popular geek movies, weapons, dark, almost a Nethack reference)
See Trailer?
No
See Movie?
No
A four word review for the Underworld trailer would have to read "Been there, done that."
Some trailers make you think "Wow, that looks cool and original" others make you think "Wow, that looks like The Matrix combined with something else." Underworld, unfortunately falls into the latter camp.
Some movies can synthesize and synergize, but if your only thought after seeing a trailer is "That reminded me of.." then you might want to skip the feature.
I must admit that some of the imagery was impressive, but the overriding feeling was "I've seen this before."
The main characters are vampires and werewolves, and the plot mirrors Romeo and Juliet Did the creators have any original thoughts?
Vampires and werewolves hate each other. Beautiful vampire and handsome werewolf fall in love. Beautiful vampire defies her family. We all know how this one will end, at least I hope it ends that way to end any possibility of a sequel.
I'm really waiting for a film that makes a quantum leap in fighting sequences. I know The Matrix wasn't the first to do everything it did, but it is the most well-known. Now every time I see bullet time and wire-work I just scream "It's all been done before!"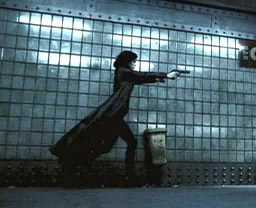 How much more
Matrix-esque can you get?
Even the opening line of the trailer, "The war itself had become more perilous," instantly reminded me of The Lord of the Rings trilogy. I know trailers are supposed to use this psychological ploy to make a connection in your brain between previous successful films and the new release. The most common technique is to borrow the soundtrack from other movies. In this case it's overdone. We're not subtly reminded of other films. They're forcibly inserted into our frontal lobe like a reverse-lobotomy.
Anyone who plays a lot of Nethack might get a kick out of all the talk about "lichens." When Beckinsale says, "vampires and Lycans, werewolves." I fully expected to hear "vampires and Lichens, fungi." That would've been a much more original movie.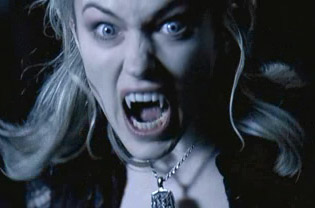 Why do all the cute ones
have to be vampires?
Conclusion on Trailer: Kate Beckinsale is attractive in her black, skin-tight clothes, but not really convincing as a vampire. The borrowing of styles from other movies was distracting. Overall, the trailer didn't do its job of making me want to see the movie.
Conclusion on Movie: There's a possibility it could be good, but my guess is that possibility is less than 50%. Lack of competition might make it the only choice this weekend if you're at the theater.
Recommend This Story to a Friend