Reviewinator

Starring
Bruce Campbell
Ossie Davis
Director
Don Coscarelli
Official Site
Link
US Opening
September 26, 2003 (nyc)
Rated
R
Genre
Comedy, Horror
Trailer Clichés
Slow-motion hero walk, critic quotes, film festivals, "From the makers of..."
Explosions
2
Weapons
Mummy hands, Kung-fu Elvis, big fly, walker, six-shooters, knife
Voiceover
No
"In a world where..."

"What we have here at Shady Rest is an Egyptian soulsucker of some sorts."

Spoilage Factor
25%
Geek Factor
65% (Bruce Campbell, monsters, independent film)
See Trailer?
Yes
See Movie?
Yes
In the last trailer review we covered Underworld, which got called out for its lack of originality. Since then the movie producers have been sued for borrowing concepts from a popular RPG, and not asking. This time I take a look at Bubba Ho-tep. A trailer that is anything but unoriginal.
An Egyptian soulsucker terrorizes an old folks home and the only people that can stop it are an aging, kung fu fighting Elvis impersonator who thinks he's really Elvis and an elderly black man who thinks he's JFK. Not quite Romeo and Juliet is it?
It's great to see a movie taking a chance with a plot that isn't formulaic, or catering to a certain demographic (unless there's a growing zombie-fighting Elvis impersonator demographic).
IMDB categorizes the movie as a comedy/horror film and both genres are equally represented here. I love the conversation between Elvis and JFK. JFK mentions that part of his brain has been replaced by a bag of sand, and then Elvis informs him that Kennedy was a white man. "They dyed me this color!" he replies.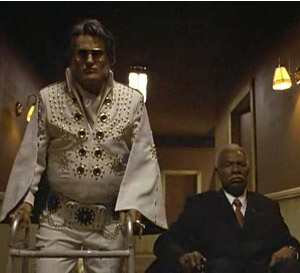 Walk like an Egyptian
The shot of Elvis with a walker and JFK in a motorized wheelchair doing the hero "walk" down the halls of a nursing home had me chuckling.
Even though I enjoyed the trailer, it wasn't flawless. First, we must endure thirty seconds of critic quotes and film festival credits before we get to the action. This seems more directed to securing a distribution deal with a major movie studio than at any potential viewers.
Second, using a quote from Harry Knowles discourages me from seeing the movie.
Third, where are all the hos? I was a bit disappointed not to see any hos in the trailer, but maybe they're saving them for the theatrical release.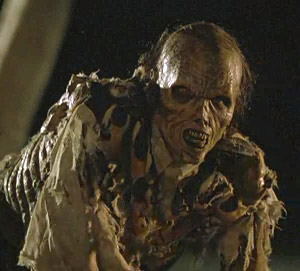 Mmmmm, brains.
Without a major studio distribution deal, it's unlikely that you'll get to see this movie unless you live in a major city or attend film festivals. That's a shame, but not surprising since it wasn't pushed out by the Hollywood formula factory.
Conclusion on Trailer: Too much text for the first thirty seconds, but the ensuing comedy and suspense makes it worthwhile. Most of all, the trailer makes me want to go see the movie. It has done its job.
Conclusion on Movie: I'll see this movie, but it could be horribly bad. This idea executed poorly could turn into a turkey, but the cast and the trailer give it promise.
Recommend This Story to a Friend