Kansas City, MO - After a six month intense integration efforts, senior consultants at B2BIntegration Inc have been unable to get a plastic spork from service provider Kentucky Fried Chicken (KFC) to interoperate with an IBM mainframe.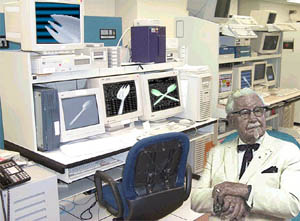 One of KFC's senior staff await the outcome of spork unit testing
"You'd think the Swiss Army knife flexibility of Web services would be able to connect to the spork's dual spoon/fork interface," a frustrated Dan Ringle, super senior consultant, commented. "I'm not sure if it's a problem with the WSDL or what."
The experts have attempted to contact the senior technical contact at KFC for the details of how the spork's system was designed. Unfortunately, neither Colonel Sanders nor any other senior staff at KFC is aware of any documentation on the spork's legacy architecture. Customer relations representative Annie McDougal didn't know where the sporks came from or how they came about: "I think we get 'em from some plasticware company in Kentucky."
One of KFC's senior staff await the outcome of spork unit testing
Annie's reply has been no comfort to Dan and his crew of integration experts. "It won't connect through UDDI, nor directly to the WSDL. We keep asking for documentation, but all they keep sending is this so-called 'secret recipes' with eleven herbs and spices. We've been able to solve problems on all sorts of B2B systems and legacy apps, overcoming countless integration nightmares, but now, we're at the end of our spork."