Redmond, WA - Microsoft is looking to target a new niche with its MSN Messenger chat software, that of couple, with an array of features designed to more accurately simulate the experience of talking on the phone with one's significant other.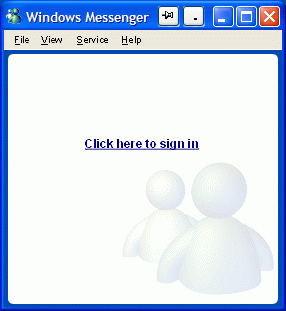 "When you're on the phone with your girlfriend, she knows whether she's getting your undivided attention. She might hear sounds in the background like your drunken buddies yelling about obscene sexual positions they're witnessing on the porno you're all watching. Or she might hear the gunfire from the game of Counter Strike you're playing online," MSN's chief product marketer, Emily Anderson said. When asked if she was implying that rabid Counter Strike players might have girlfriends, she declined to comment.
Anderson said that she had the revelation for the new suite of features when her 16 year-old daughter came storming down the stairs from her room. When asked what was wrong, she said that her boyfriend, who she'd been chatting with via MSN, had closed his chat window with her in the middle of their conversation when they were fighting, tantamount to hanging up the phone.
"And I thought, she knew this because MSN lets her know the other side has closed the chat window. Why not expand this feature set?" The newest version of MSN (code-named "Estrogen") will feature dozens of new alerts that will alert girlfriends to their boyfriends' activities to decide whether they are giving their full attention to the conversation.
Among the new alerts are some of the following, which will pop up in the chat window:
"He's minimized your window. Obviously he has more important things to do than talk to you."

"He's typing a message to his friend instead of responding to you."

"He's checking out his fantasy football scores right now. He'll acknowledge your existence when he has the time."

"He's having cybersex with your best friend."
The new chat window will also feature a meter, similar to AOL's warning meter, which will display MSN's estimate of the percentage of overall attention span that a male is devoting to his conversation with his significant other. As the meter reaches certain points, help bubbles will pop up with helpful hints about what that particular level implies. When in the green, a bubble pops up saying, "He's probably just horny." When in the yellow, "Start nagging." When in the red, " Dump his ass."
But will men be able to make use of these features? According to Anderson, no. But what sorts of devices will keep men from masquerading as women online?
"Well, with the new version, we require a simple urine test if you claim to be female. It's the MSN Messenger equivalent of product activation. Just send us a cup of your urine, and we'll analyze the DNA to see if you are who you say you are. After that we'll give you a call with a few questions that only females would know, mostly about shoes, sales and makeup. The whole process only takes 2 weeks."