Reviewinator

Starring
Keanu Reeves
Hugo Weaving
Director
Andy Wachowski
Larry Wachowski
Official Site
Link
US Opening

November 5, 2003

Rated
R
Genre
Sci-fi Sequel
Trailer Clichés
Quick-cut title splash, revealing too much
Explosions
19
Weapons
The Matrix, brain probe, sub-machine gun, handgun, fire-face, mech-warriors, giant drill bit, Neo Fist-of-Fury, Agent Smith Fist-of-Fury, electro-gun, subway car, flying squids.
Voiceover
No
"In a world where..."

"Everything that has a beginning, has an end."

Spoilage Factor
45%
Geek Factor
90% (The Matrix rip-off, sci-fi, computers controlling the world)
See Trailer?
Yes
See Movie?
Yes
If you want maximum enjoyment from The Matrix Revolutions then don't watch this trailer or read this review. Come back on November 6th and read it then. You can read a bit more. I'll tell you when to stop, but I'm warning you. This trailer reveals it all.
Who's to blame for the excessive revelations in trailers? For letting us know that Gandalf survived in The Two Towers trailer? The answer of course is dumb people. Dumb people can't decide whether they want to see a movie unless the entire plot has been explained to them. Dumb people work at major studios, and enjoy taking the joy and mystery out of seeing a movie.
I walked into Raiders of the Lost Ark without any idea what the movie was about. I hadn't seen a trailer or read a review. I would have enjoyed the movie regardless, but not as much. Every moment was a joyous surprise.
If you want to enjoy the movie fully, now is the time to stop reading.
***** SPOILER ALERT *****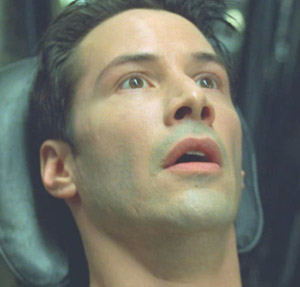 "Trinity, I really like those implants."
This trailer shows us Neo talking to the embodiment of the matrix. It shows us the creator of Agent Smith. It shows the cool mech-warrrior machines the humans have. It shows us the machines reaching Zion. Do all of these surprises need to be revealed? Oh, I forgot, we need to generate "buzz" to get a big opening day. Maybe even set a record. I'm surprised they didn't show us that it's all just Neo's dream, but there's still time for another trailer, so I'll wait.
The trailer has the special effects and action that you'd expect from a Matrix trailer. It's also confusing like a Matrix plot. Satisfactory conclusions to complex plots are difficult to achieve. It's easy to weave a web, but difficult to extract yourself without breaking one of the threads. I hope the Wachowskis don't break our hearts. No cheating, no dream sequences. Nothing would be more disappointing to Matrix fans than a cheap writer's device as a finale.
I'm encouraged by what I see in the trailer, but I was also encouraged by the trailer for Reloaded. I hope, Revolutions won't suffer from the overlong, preachy dialogue that hampered the second film.

What will be the final battle? Humans vs. Machine? Neo vs. Smith? Neo vs. The Matrix? Yogi vs. Boo-boo? It's hard to say. It looks like there will be many epic battle scenes involving spacecraft and less hand-to-hand combat in this movie. That's a relief, because we know how I feel about dance-fighting and bullet-time.
One secret I will reveal, everyone knows that Neo is an anagram of One, but few people know that Neo's last name is Het which is an anagram of The. Everything just fell into place, didn't it?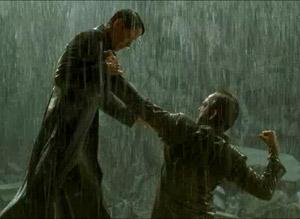 "Whatcha gunna do when Agent Smithamania and my 24" pythons run wild on you?!?"
At the end of this trailer I wanted to see the movie. At the end of the movie I want to know what the hell the Matrix is.
Conclusion on Trailer: Excellent special effects and great action make this a trailer you shouldn't miss, unless of course you want to enjoy the movie.
Conclusion on Movie: Everyone is hoping the Wachowski brothers can tie this trilogy up as well as they started it. The law of sequels is against them, but there are millions of geeks hoping they can pull it off.
Recommend This Story to a Friend