Reviewinator

Starring
Jessica Biel
John Larroquette
Director
Marcus Nispel
Official Site
Link
US Opening

October 17, 2003

Rated
R
Genre
Horror
Trailer Clichés
Quick-cut title splash, "From producer..."
Explosions
0
Weapons
Chainsaw, cleaver, meat hook.
Voiceover
No
"In a world where..."

"Inspired by a true story."

Spoilage Factor
25%
Geek Factor
5% (Classic horror remake)
See Trailer?
Yes
See Movie?
No
Often trailers present the talent in front of and behind the camera with phrases like "From the producers of Saving Private Ryan" or "Academy Award Winner Jack Nicholson." Inspiring phrases that let the potential moviegoer know they will see a quality film. The only phrase this trailer can generate is: "From Producer Michael Bay." Truthfully, it should say "From the loudest producer in Hollywood, Michael Bay." I'm surprised it didn't mention: "From the director who brought you a Faith No More video, Marcus Nispel!"
The creators of the trailer were required by law to mention Michael Bay's involvement. Bay combined with the word "chainsaw" invokes the OSHA clause requiring moviegoers to bring earplugs.
With that introduction, you'd expect a dreadful trailer, but it's surprisingly good. The trailer builds suspense nicely and has many scares. The music adds to the tension, and the creepy actors are, well, creepy.
The trailer opens with a group of horny teenagers driving down a dusty Texas back road. A distressed woman on the side of the road gets their attention. She tells the horn-dogs that everyone in her group is dead, except her of course. This should be the signal to get the hell out of there, but The Texas Dirt Road Drive Away doesn't have the same ring, does it?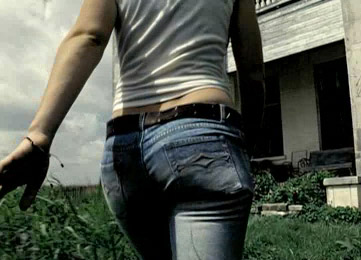 The star of the show
The rest of the trailer is predictable but well done. Our moronic teens investigate the seemingly abandoned house only to find a bunch of creepy rednecks and a chainsaw wielding killer. At one point there are seven seconds of black screen then CHAINSAW! That should be good for a few squeals.
I must point out the performance by Jessica Biel's butt. It's featured in eight shots of the trailer. Most of the time it's running away from the chainsaw- (and camera-) wielding madman. Such a prominent role by an ass can only be the sign of a good movie, right? I mean The Core 2: The Day Shakira's Ass Stood Still was good wasn't it?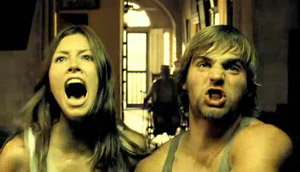 Are these people looking at the same thing?
Conclusion on Trailer: The trailer is well done and worth the download, even if it didn't feature Jessica Biel's behind.
Conclusion on Movie: If you're going to remake a classic, at least get somebody good to do it. I'd suggest going to see the re-release of Alien this Halloween instead.
Recommend This Story to a Friend